Having a tough time choosing the right toothpaste? You're not alone! With so many options out there, it can feel like navigating a maze. Not to mention the various toothpaste commercials – it's like every dentist has conflicting opinions! But fear not, because we'll provide you with a comprehensive guide to help you decide on the right toothpaste for you. We've consulted with some of the top dentists in Durango, CO to help you decode the mysterious world of toothpaste. Let's break down the good, the bad, and the ugly of toothpaste ingredients.
Basic Ingredients
Toothpaste, the magical substance that keeps your mouth clean and fresh, has a straightforward mission: to keep your pearly whites sparkling, keep bad breath at bay, and prevent nasty dental diseases. But don't be fooled by the sea of toothpaste options out there. Whether you're into minty-fresh flavors or enjoy using charcoal-infused toothpaste, all toothpaste brands contain a few fundamental ingredients. Let's take a closer look, shall we?
Abrasives
Silicates, calcium carbonate, and other abrasive materials are the ones responsible for kicking out the food remnants from your mouth and removing the stains from your teeth. But don't get too carried away with their powers! Although they are considered "inactive" ingredients, they can cause considerable damage to your teeth if you press your toothbrush too hard while brushing. You don't want to end up with damaged enamel and irritated gums!
Detergents
Toothpaste manufacturers add detergents to make brushing more fun and frothy. These bubbly ingredients, like sodium lauryl sulfate (SLS), help spread the toothpaste over your teeth and activate the active ingredients. But beware, some people experience adverse effects from SLS, such as irritation and dryness. Thankfully, there are toothpaste options with alternative detergents like sodium cocoyl glutamate, glycyrrhizin, and lauryl glucoside.
Flavoring
Toothpaste makers know that nobody wants to use a paste that tastes like dirt. That's why they add flavorings to make the toothpaste more bearable. You can thank them for ingredients like saccharin and sorbitol that make brushing your teeth a little less awful. Don't worry, they may be sweet, but they won't rot your teeth like actual sugar.
Humectants
Toothpaste humectants may sound like some fancy scientific term, but they're just ingredients that keep your toothpaste from drying out like a stale piece of bread. Sorbitol, glycol, and glycerol are some of the common humectants you can find in toothpaste. So, no need to worry about your toothpaste turning into a crusty mess!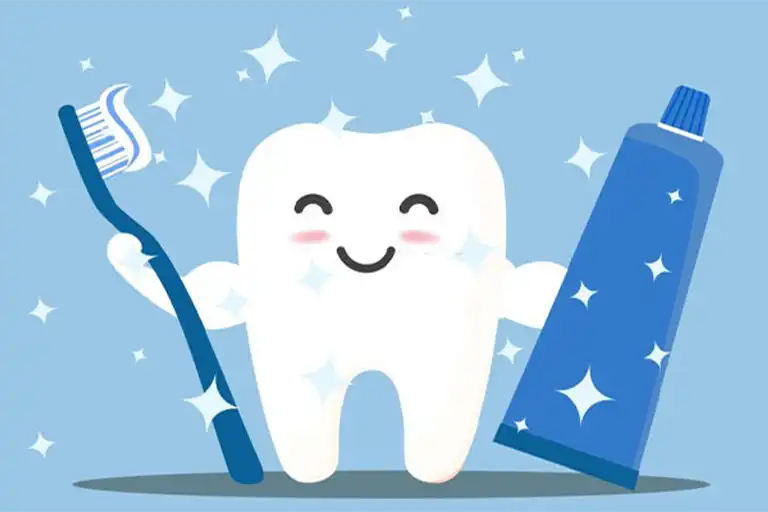 Beneficial Ingredients
Let's dive into the toothpaste ingredient hall of fame! These ingredients are the MVPs of dental hygiene, keeping your pearly whites healthy and happy:
Hydrogen Peroxide
This ingredient works to reduce stubborn stains, leaving your teeth looking shiny and bright. Don't worry about overdoing it – toothpaste with hydrogen peroxide only contains minimal amounts, so you won't have to worry about damaging your enamel. A study conducted in 2022 showed that the higher the concentration of hydrogen peroxide in toothpaste, the more stains it can kick to the curb.
Potassium Nitrate
If you've got teeth that have increased sensitivity, then toothpaste with potassium nitrate might just be the way to go. It's been scientifically proven to help reduce sensitivity, and if you use it consistently for a few weeks, you'll start to notice the difference. However, potassium nitrate is a bit of a one-trick pony, meaning that its only purpose is to lessen teeth sensitivity.
Calcium Carbonate
This effective abrasive is a pro at removing stubborn stains and keeping your teeth sparkling clean. Just be sure to use it with care, as brushing too hard can cause damage. But don't worry, studies have shown that toothpaste with calcium carbonate removes more plaque than those without it, and it won't cause any harm to your gum tissue.
Zinc Citrate
You can say goodbye to bacteria and plaque by using toothpaste that has zinc citrate. This ingredient helps reduce the sticky film on your teeth and gums that harbors bacteria. Plus, a study showed that using toothpaste with zinc citrate for six months greatly reduces plaque and gingivitis.
Fluoride
Toothpaste isn't complete without fluoride! Fluoride is essential because it helps to make your teeth strong and durable. It does this by hardening your enamel, which serves as the outer armor for your teeth. Added to this, toothpaste with fluoride is highly recommended by many dental authorities for those wanting to prevent cavities from appearing.
Harmful Ingredients
Toothpaste can also have some nasty ingredients that can be harmful to your dental hygiene. Beware of these ingredients when choosing toothpaste:
Triclosan
Triclosan is like the troublemaker in toothpaste ingredients. Sure, it can kill bacteria, but it has also been known to disrupt hormones and lead to antibiotic resistance. The FDA even banned it from hand soaps and body washes in 2017, but toothpaste manufacturers still sneak it in.
Sodium Lauryl Sulfate (SLS)
SLS may be great for making toothpaste foamy, but it's not so great for some people's skin and mucous membranes. It can cause gum irritation and lead to canker sores. Plus, it might even mess with your taste buds and make your favorite foods taste weird for a little while after brushing.
Artificial Sweeteners
Toothpaste manufacturers add artificial sweeteners like aspartame and saccharin to make the toothpaste taste better without causing tooth decay. However, studies have shown that these sweeteners may have negative health effects, such as an increased risk of cancer.
Conclusion
Choosing the perfect toothpaste can be a real challenge, but if you know what ingredients to look out for, you can more effectively narrow down your options. Look for toothpaste with beneficial ingredients like fluoride, calcium carbonate, hydrogen peroxide, potassium nitrate, and zinc citrate to keep your teeth shining bright. Steer clear of toothpaste with harmful ingredients like triclosan, SLS, and artificial sweeteners, which can wreak havoc on your health. And remember to brush twice a day, for at least two minutes each time, and visit your dentist regularly for checkups and cleanings to keep your smile in top shape!