If you are getting a dental crown, chances are you hear about same-day or CEREC crowns. In a single appointment, your dentist will prepare and place your crown. This is all made possible thanks to the CAD/CAM digital technology, 3D imaging, and the newest developments in milling machines. Let's know more about same-day crowns, including the pros and cons, and its procedure.
What are CEREC same-day crowns?
A dental crown is a tooth-shaped cap that fits over your tooth. It restores damaged, decayed, broken, or discolored teeth. Crowns are recommended restoration to restore the shape, function, and size of a seriously damaged or worn-down tooth. Also, a crown covers a tooth implant and holds a dental bridge in place.
There are several different types of crowns, ranging from the most beautiful like porcelain and lithium disilicate (E-max) to the most durable materials such as gold, metal, and zirconia.
You will get a traditional dental crown in 2 dental visits. In the first appointment, your dentist prepares and shapes the tooth to make space for the crown. The next steps involve taking an impression of the tooth and the surrounding teeth and sending it to the dental laboratory. Your dentist will place a temporary crown and you will wait for 2-3 weeks until the second appointment, where the permanent crown will be cemented over your tooth.
A CEREC crown is made and designed using CAD/CAM (computer-aided design and computer-aided manufacturing).
CEREC stands for Chairside Economical Restoration of Esthetic Dentistry. This means your dentist will design, fabricate, and install your crown in a single visit with computer-assisted technology. The designs are passed to the CEREC milling machine to create the crown out of a high-quality ceramic block.
What are the advantages of CEREC same-day crowns?
CEREC same-day crowns offer many benefits. Their great advantages make them increasingly popular.
Same-day procedure
CEREC crowns save you a lot of time. Instead of waiting for 2 or 3 weeks and having 2 dental visits, the entire procedure only takes 1 visit.
You will not have to wear a temporary crown and there is no need for a dental lab. This makes them a very time-efficient procedure for a dental treatment.
You will come in to the dentist's office and walk out with your new crown made and fitted in just hours.
Great appearance
CEREC crowns are mainly made of ceramic and porcelain—a glass ceramic. Both materials are non-metallic, look more natural, and blend in with your existing teeth.
Today, lithium disilicate is used in dentistry to make a same-day crown due to its greater strength and the ability to closely resemble the patient's tooth color. It is a newer and stronger type of ceramic.
High durability
If you are looking for the strongest CEREC crown for your back teeth, then you should know zirconia. It is a type of crystalline ceramic, so again no metals are involved. Zirconia is an extremely durable ceramic, which can last over 20 years with proper care.
However, zirconia is less esthetic than other ceramics like porcelain and lithium disilicate due to its opaque color.
Comfortable and precision fit
You will feel great and comfortable with how your CEREC crown fits. The digital impression provides a precise 3-D model of your teeth.
Additionally, the CAD/CAM computer software allows your dentist to design the customized crown more accurately and in detail. So, you will get a reliable restoration according to your bite and the adjacent teeth.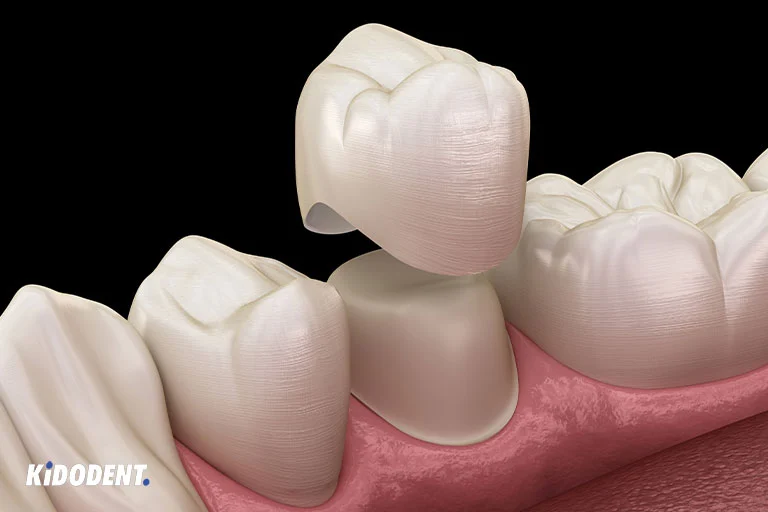 Are there any disadvantages?
While CEREC offers a number of great benefits, some people may find out it is not available in the area they are living. Perhaps accessibility is the main issue.
Availability and cost
CEREC crowns may not be available and offered at every dental practice. This type of dental restoration requires advanced technology and special equipment. Therefore, not all dentists may have extensive training in the technology, and not every dental office may offer this procedure.
In addition, the cost of this type of crown may be higher than the traditional way.
May limit your choice of material
Due to the fabrication process, the CEREC technology currently cannot provide gold, metal, or Porcelain-Fused-to-Metal (PFM) crowns.
CEREC crowns are only made of ceramic. This includes porcelain, zirconia, and lithium disilicate(E-max), which are all different types of ceramic.
CEREC crowns procedure: what to expect
Here is what you should expect when getting your crown in a single dental appointment with CEREC in-house system.
1. Evaluation and examination. Your dentist will first take a complete oral exam to check the health of your teeth and gums. This will involve taking medical imaging like X-rays.
2. Preparing the tooth. Your dentist numbs the tooth and the surrounding gums using local anesthesia. This will ensure a comfortable and completely painless procedure. Then your dentist removes the decayed or damaged portions and shapes the tooth in order to make a room for the crown to fit.
3. Optical impression. Your dentist will then take digital pictures of the prepared tooth and your entire mouth. There is no putty-like material or mold trays to bite anymore. But rather, an intraoral camera that scans and generates a virtual model of your teeth.
4. Design and modeling. Your dentist will use CAD/CAM technology to modify and design a perfect, accurate, and well-fitted crown for you.
5. Fabricating the crown. The software submits the final draft to the CEREC milling unit. Then the milling machine creates and sculpts your crown out of a block of ceramic. This process can take around 15 minutes.
6. Placement. After doing the final polishing, your dentist will bond your crown in place using a special dental cement.
The total process takes about 2 hours or more depending on how much work is needed.
Watch the video below showing the CEREC crowns' process:
Conclusion
A CEREC crown is a durable, natural-looking type of crown that only requires one dentist visit.
However, you need to talk to your dentist whether this dental restoration method is available for you. Also, discuss with them the cost and other crown options like gold or metal.
Frequently asked questions
Are same-day crowns worth it?
Yes. They are truly functional and popular. While a traditional crown can take you weeks, the advanced CAD/CAM technology and the proprietary milling equipment of CEREC provide you with a high-quality, efficient crown in a single appointment.
Are CEREC crowns good for back or front teeth?
A CEREC, or same-day crown, is just as good for back or front teeth. For front teeth, you have porcelain or lithium disilicate (E-max) options, which offer great natural appearance. With the lithium disilicate being superior in strength. For back teeth, the incredibly durable zirconia makes a perfect option.
How long do CEREC crowns last?
A CEREC crown made of zirconia can last up to 20 years, while lithium disilicate and porcelain CEREC crowns can last anywhere between 10-15 years on average.