When too much of a good thing becomes a problem. Fluoride is a very important mineral not only for your child's dental health but also for adults'. It strengthens tooth enamel, helps prevent cavities, and reverses the early stages of tooth decay. But too much fluoride when consumed by children during their teeth development years runs the risk of fluorosis. This is why we are going to discuss the prevention ways so that parents and caregivers know what they can do to prevent this condition.
How can children get fluorosis?
Dental fluorosis is a condition caused by consuming too much fluoride when a child's teeth are developing under the gums. It is restricted to children from birth to age 8 when tooth formation is underway and happens once a large amount of fluoride is ingested.
Two common ways that fluoride is consumed by children include drinking water and swallowing fluoride toothpaste instead of spitting it out during tooth brushing. Other common causes are rooted in the child's diet, likely due to the fluoride supplements being prescribed to the child, drinking beverages containing fluoride, and even consumption of processed foods made with fluoridated water.
The condition is cosmetic and doesn't impact the overall health of teeth. It is mostly seen in mild types, with the appearance of faint white spots showing on teeth that may only be seen by a dental professional. In severe cases, brown staining and pitting on the tooth enamel can occur.
Watch the video explaining fluoride benefits and its major side effect, fluorosis:
Here are 5 ways to prevent fluorosis in your children
Considering that fluoride is received from foods, beverages, and drinking water, or from toothpaste once teeth emerge, a child can be at fluorosis risks when exposed to too much. Parents and caregivers can help prevent it with the following tips:
1- Monitor your child's toothpaste use
To prevent tooth decay and the risk of cavities, fluoride is essential and is added to toothpaste. It is important that your child get the maximized benefits of fluoride with reliable twice-daily brushing.
As children's swallowing reflex is poor, they might ingest the paste during toothbrushing and swallow regularly large concentrations of fluoride. Therefore, supervise children's toothbrushing habits to make sure that they spit out the paste and not swallow it.
According to the American Dental Association (ADA), children younger than 3 years of age should brush with the size of a grain of rice or a "smear" amount, while children from 3 to 6 years old should use a pea-sized amount of fluoridated toothpaste. This helps lower the chance of excess fluoride from being ingested and thus preventing dental fluorosis.
2- Know the fluoride amount in your primary source of drinking water
One of the effective methods to deliver fluoride to all people is through community water fluoridation. It is a safe, effective, and necessary way to help reduce tooth decay, as ADA confirms.
The U.S Public Health Service (USPHS) issued a report in 2015 recommending the optimal fluoride levels for the prevention of cavities be adjusted to 0.7 milligrams of fluoride per liter of water (mg/L). According to CDC's website, Centers for Disease Control and Prevention, this amount of fluoride is enough to prevent risks of tooth decay in both adults and children, while reducing the risk of your child developing dental fluorosis.
If the fluoride level in your drinking water exceeds 0.7 ppm (0.7 mg/L), consider an alternative water source to prevent fluorosis in your young children. Please note that naturally occurring fluoride level in drinking water that exceeds 2.0 mg/L (equal to 2 parts per million) is considered very high. This is alarming and requires urgent action to change the water source or seek water treatment for the safety of the young ones.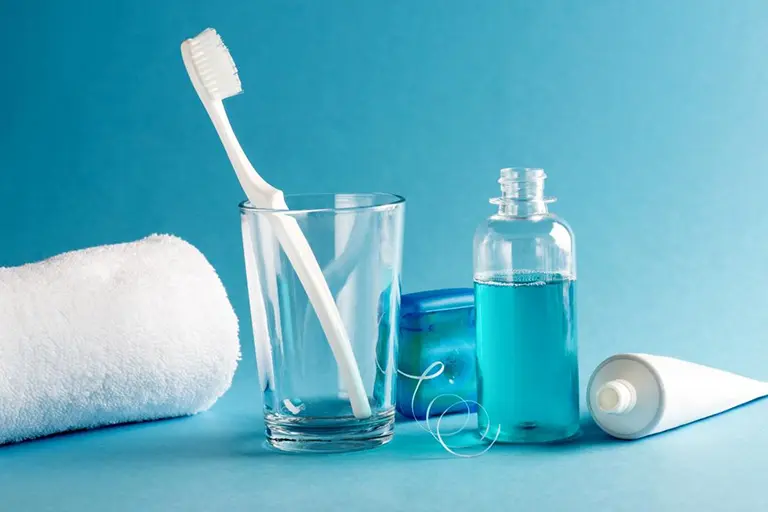 3- Avoid mouthwash for children younger than 6
Children are more likely to swallow a large amount of mouthwash since swallowing reflexes is not fully developed in young ages.
Unless deemed necessary by a dentist, ADA does not recommend the use of mouthrinse for children younger than 6 years old and that includes fluoride mouthwash. Consult a dentist or pediatrician if your kid is at high risk for decay.
4- Be careful about prescribed fluoride supplements
Fluoride supplements can be prescribed for children who are at greater possibilities of developing tooth decay or whose primary source of water is deficient in fluoride. Dietary fluoride supplements can come in tablets and drops or come as an added mineral in other medications. They should not be given to children if drinking water provides them with the necessary recommendation.
Parents and caregivers should weigh the risks and benefits. Child's age and potential decay risks, compliance with the dose, and fluoride content in water are some key factors to prevent fluorosis.
Discuss the fluoride level of your public water system or private well with the pediatrician or a dentist. Your child does not need the supplements if you are living in areas that are already fluoridated (0.7 mg/L or higher).
5- If not breastfeeding, consider low-fluoride or fluoride-free water for infant formula
Breastfeeding is an ideal way to feed your infant, but for moms who can't, baby formula is a healthy alternative.
Breast milk is the best nutritious source for infants and protects them from viral infections and diseases. A breastfed child is unlikely to suffer from dental fluorosis.
Also, an expectant mom drinking normal fluoridated water doesn't pass large amounts of fluoride to their baby. Thus, there is less concern and weak chance of dental fluorosis.
On the other hand, moms who feed their baby only infant formula— powder or liquid concentrate— should use low-fluoride or even fluoride-free water to mix the formula with water. You can still use tap water but only after checking fluoride content. This is especially important if the main source of your babies' foods is infant formula and if the water has more than optimal fluoride concentration.
Using bottled water with no or less fluoride added can be an option, too. Moms can also use ready-to-feed formula since it contains little fluoride.
Conclusion
Indeed, your dentist or pediatrician can determine what amount of fluoride is right for your kid and help you with proper oral care methods.
It is required to have regular dental visits to let your dentist closely monitor the child's dental health. The first dentist's visit can start when the baby reaches six months of age (the eruption of the first tooth) or at the child's first birthday. The dentist or pediatrician can also provide more tips on how to prevent fluorosis.
The presence of any dental issues like fluorosis can be detected and treated by your dentist. Since fluorosis is often not visible easily, it is only diagnosed by a dental professional. The condition is so mild in many cases that your child may not need treatment at all but can alert you on cutting back fluoride intake. However, depending on whether it is mild or severe, there are several treatments available for fluorosis.