What is transient lingual papillitis?
Transient lingual papillitis (TLP) also called lie bumps is an inflammatory tongue condition that causes irritation and pain and appears as small red or white bumps on the surface of the tongue. Transient lingual papillitis bumps appear and go away on their own quickly, but they can be painful and irritating. Lingual papillitis bumps will show up on the tongue tip and side of your tongue with inflammation. You will have difficulty in your eating especially eating spicy and acidic foods.
One big factor in both causing and irritating transient lingual papillitis is eating hot, spicy, and acidic foods. You may feel uncomfortable when the pain is constant, severe, or irritating. If it persists for weeks and keeps coming again, seeing a doctor for a better diagnosis is necessary. A dentist, oral hygienist or doctor can examine your tongue and advise you on dos and don'ts.
Most of the time, no treatment is required and some at-home remedies will work. In addition to transient lingual papillitis, there are two other forms of transient lingual: Eruptive lingual papillitis and fibrous lingual papillitis. Eruptive lingual papillitis has some similarities in symptoms but is different.
Transient lingual papillitis or eruptive lingual papillitis
Because of the same color of the spots on your tongue and similar symptoms, you may not be able to tell whether you have transient or eruptive lingual papillitis. But there are many differences between these tongue conditions, which you may want to know.
Generally, transient lingual papillitis is a condition that arises in a few hours or days and is normally gone within a few days, but eruptive lingual papillitis may last for weeks before it disappears. Eruptive lingual papillitis is usually caused by infections from virus and it is a common contagious tongue condition among children. It causes children both fever and inflammation of their glands.
Signs of lie bumps on the tongue may include white, red or yellow spots (bumps) that appear on the surface of the tongue, mostly on the tip.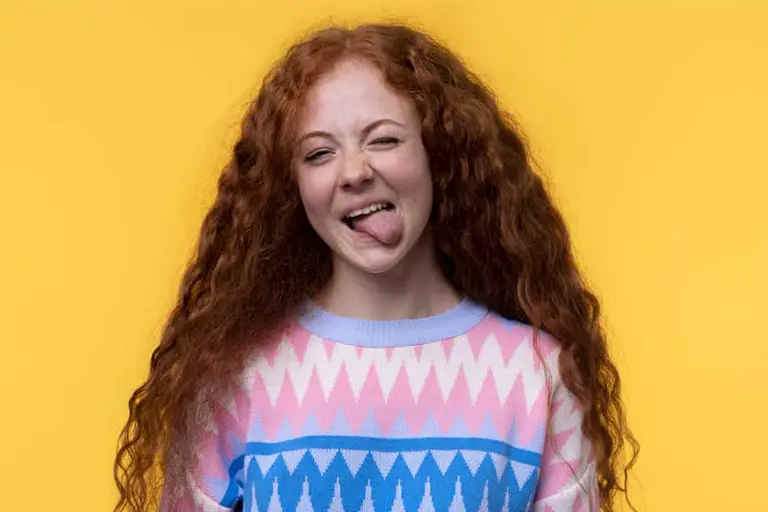 Symptoms typically resolve after a few hours or 1 to 4 days, while they may last for 1 to 3 weeks, when diffuse lingual inflammation coexist. Biopsy is not required for the final diagnosis, but in cases where it was performed microscopic examination showed an inflamed fungiform papillae with minimal spongiosis and neutrophils infiltration of the epithelium. Taste buds that are normally present in fungiform papillary glossitis were not detected.

Source: Transient lingual papillitis: A retrospective study of 11 cases and review of the literature
Lie bumps on tongue signs and symptoms
Normally, transient lingual papillitis are spots or painful bumps that have white, red, or yellow color. These bumps appear on the surface and mostly on the tip of the tongue. Lingual papillitis symptoms resolve on their own and disappear within days, so you shouldn't get worried about them.
Common signs and symptoms of transient lingual papillitis are:
Red or white bump on the tip of the tongue
Inflammation of the tongue and feeling of pain
Feeling of burning, tingling or itchy tongue
Spicy, hot and acidic foods can trigger the pain and you will develop a sensitivity and difficulty in eating these foods
Feeling of dry mouth
Causes
Although the exact cause of lingual papillitis is not known and well understood, there are, but, some possible causes that help in triggering the lie bumps like:
Poor nutrition
Trauma and allergies
Smoking and high alcohol intake
Spicy and acidic foods and drinks
Teeth injuries and sharp edges from both your teeth and orthodontic appliances
Stress and not having enough sleep
Infections and diseases
Medical advice diagnosis or treatments
Usually, there is no need for drug or medicine to treat transient lingual papillitis bumps. Because transient lingual papilitis goes away mostly in a few hours or maybe just a few days, the best way is to avoid those triggering factors, which may worsen your pain.
Common treatments and home remedies for lie bumps or transient lingual papillitis are:
Warm salt water rinse
Eating or drinking liquids and foods that are cold like ice cream or cold water, which are risk-free and simple home remedies to soothe your pain
Avoid spicy, acidic and hot foods
Avoid those oral hygiene products that cause irritation and may trigger more pain
In case of severe pain:
Take over-the-counter painkillers
Use topical anesthetics whether these anesthetics can be in the mouthwash or any other topical form
Use topical steroids like corticosteroids to treat inflammation and irritation, which can relieve your pain
Are lie bumps contagious?
Transient lingual papillitis cannot be spread from one person to another via contact, saliva, or other ways since it is not caused by a virus. However, eruptive lingual papillitis which has the same symptoms as red or white painful bumps is regarded as contagious.
Should I see a doctor?
See a doctor or dentist if you know that transient lingual papillitis or lie bumps haven't gone away by their own, are bleeding by your touch, and are being very painful. Your doctor, dentist, or oral hygienist will examine your mouth for more serious signs and symptoms and help you out in dealing with the pain.
You may need to take your child to a pediatrician to check their oral and dental condition or to receive any necessary treatment. Sometime, lie bumps can be recurrent and come and go frequently, which may bother not just adults but children. This may impact your child more, so a doctor's visit will ensure whether another oral condition is present or maybe an underlying disease is causing these small bumps on your tongue.