cleft lip and cleft palate are two birth defects that affect the orofacial balance, the appearance and cause speech, feeding, and dental problems for children. In this article, a comprehensive explanation of these 2 defects and the treatment strategies are discussed. The emphasis is on orthodontic treatment to correct dental and jaw deformities after restorative, surgical procedures of lip and palate.
How does cleft palate or lip occur?
During the 6 to 10 weeks of pregnancy, the bones and tissues of the upper jaw, nose, and mouth develop in a way to fuse together to form the roof of the mouth with the upper lip. Clef occurs when this connection (fusion) fails.
Cleft lip involves the upper lip or toward the nose or even the gum. The cleft lip and cleft palate mainly involves soft tissue or it can be on the hard palate, the roof of the mouth.
These conditions can be on one side of the mouth (unilateral) or on two sides of the mouth (bilateral), but these clefts are in 3 following forms:
Cleft lip mostly happens in males
Cleft palate mostly happens in females
Both lip and palate mostly happen in males
Usually, cleft lip is diagnosed very early on in infants. Although sonographic imaging of this fetal abnormality can provide the necessary diagnosis, the best diagnosis is after-birth palatal examinations.
Causes of cleft defects
The causes of cleft lip and palate are not very clear, but environmental (medication or vitamin deficiencies) and genetic factors are the main causes.
As we said, genetics has the main role in causing these problems. Babies inherit certain genes from their parents, which cause cleft lip or palate
Medication(like antiepileptic drugs) during pregnancy increases the infant's abnormality of the cleft palate and lip
Another possible risk of cleft palate and lip can be nutrient deficiency (for example, folic acid) in pregnant women.
Exposure to chemical substances during pregnancy.
Alcohol abuse, drug addiction, and heavy smoking among pregnant women increase the risk of birth defects.
Research has shown that excessive alcohol drinking is one of the important causes of facial birth defects like cleft lip and palate.
Cleft lip and palate and the troubles for children
Cleft lip and palate can impact most orofacial and dental functions. Infants who are born with these defects experience many problems with feeding, hearing, teeth spacing, and speaking disorders.
Feeding problems
Babies with just a cleft lip usually don't face feeding problems, but if they have a cleft palate along with that, it causes much bigger challenges in eating.
The reason for feeding disorders with these defects is obvious. Since the palate blocks the foods or liquids from passing through the nose, with the cleft palate, a high degree of air is inhaled together with food to the nose.
Also, babies with cleft palate face breastfeeding problems. Therefore, parents should use special baby bottles to prevent malnutrition.
Middle ear effusion and impaired hearing
Most infants with cleft palate are at risk of middle ear effusion (build-up of fluid). Because of the blockage of the tube in the ear to drain fluids out and the inability of the muscle to open the Eustachian tube, ear infection and impaired hearing will result.
For drainage of the liquid for infants with cleft palate, some special tubes are used for draining the liquid out of the ear. These infants should have their ears examined regularly each year to prevent hearing loss.
Dental problems
Often, babies with it have problems with their teeth. Some of these dental problems are:
Small teeth
Supernumerary (extra number of) teeth
Dislocated teeth
Gum tissue defects
Loss of bone to protect the teeth
Tooth loss around the cleft area
Thus, considering these possible challenges for babies, parents need to be aware and take their babies to the dentist especially an orthodontist for check-ups and detailed examinations.
Speaking disorders
One in 5 infants that have experience speech disorders in the postsurgical stages. The number of infants with cleft lips affected by speaking problems is lower, compared to infants with cleft palate.
Pronouncing words in the standard way or nasal accents are common problems since these babies use their nose to send the air out rather than through oral air space.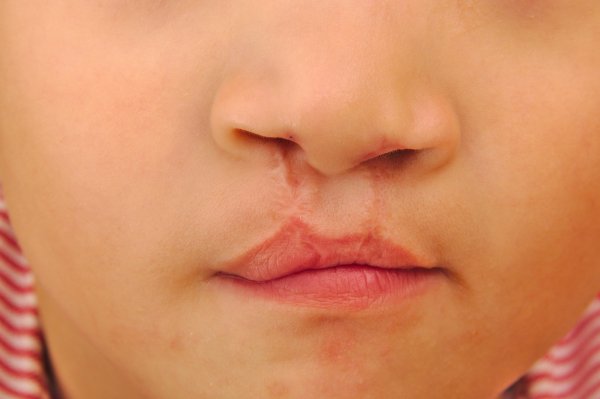 The treatment of the cleft palate and lip
We need teams of medical specialists to treat these defects. The first specialist that can help you is a pediatrician. Pediatricians can refer you to the other specialist for the treatment of the cleft palate and lip.
Doctors and specialists that can collaboratively help you in this case are:
Plastic surgeons
Otolaryngologist (physician of treatment of ear, nose, and throat disorders)
Oral surgeons
General dentists
Speech therapists
Audiologists
Nurses
Social workers
Psychologists
Geneticists
To treat the problems that your children experience, you should have regular visits yearly.
Surgical repair of cleft lip
Cleft lip repair in babies of 3 to 6 months of age is done through general anesthesia and surgical procedure in the hospital. The split parts of lips are repaired with special treatments.
Surgical repair of cleft palate
it can be repaired when infants reach 9 to 12 months of age. Plastic surgeons fuse soft palates and the fusion occurs anatomically and naturally. This type of surgery demands general anesthesia and several days of hospitalization.
The goal is to fix this palatal defect in the roof of your child's mouth and improve their speaking ability.
As children age, some other facial symmetrical considerations may be necessary, like surgeries in the throat and pharynx area to make speech production better or bone grafting implants to stabilize the teeth deformities.
Oral and orthodontic treatment of cleft palate
Compared to other children, children with these defects have difficulty preventing tooth decay or keeping the hygiene of the mouth and teeth. For this reason, cleft lip and palate repairmen are crucial. Apart from brushing and flossing, regular appointments at the dentist are necessary.
Children with it may need to undergo orthodontic treatments. Palatal expanders are one first step to widen the palatal area. Next, orthodontists use orthodontic braces. Consultations with parents and the information provided are really important throughout the treatment periods.
Permanent teeth development may not occur as a result of these defects in some children. Dental implants and other restorative treatments can solve the problem in these conditions.
Speech therapy for children with cleft lip and palate
Some children may need therapeutic treatments after surgeries and orthodontics. Speech therapists assess speech disorders and provide necessary treatments for your child.