It is really sweet to see your child's first baby teeth coming through the gums. As sweet as that, you know that proper care from those early ages helps your child have a bright smile and a healthy future. Brushing teeth early is important for maintaining good oral health in children. But many parents wonder when their kids should start brushing baby teeth. This article will explain this and more including, at what age and how much toothpaste is recommended for kids, how to brush children's teeth, and what they should know about cleaning infants' gums.
The importance of caring for children's baby teeth
According to the Centers for Disease Control and Prevention, tooth decay (also known as cavities) is one of the most common chronic health conditions in childhood in the United States. It also states over half of the children aged 5 to 8 are affected by cavities in at least one of their baby (primary) teeth. However, parents and caregivers should know that tooth decay is preventable.
With good oral hygiene in baby teeth, your child will get a great many benefits that affect their overall health, including:
Eating and speaking well
Keeping their primary teeth free of cavities
Holding dental space by baby teeth until replaced by permanent ones
Preventing early tooth loss which impact how the permanent teeth will grow
Improved ability in their learning and playing
When should you start brushing baby teeth?
The short and quick answer to the question "At what age to start brushing your baby's teeth?" is when the first tooth erupts through the gums. But you need more than just a simple answer.
Follow this three-step timeline to set a good early start for your child's dental care routine:
Birth to 1st tooth: Gum care
Babies' first tooth will probably appear around 6 months of age, but it can range at any time between 4 to 12 months. At this stage, you can start cleaning your baby's gums. You can wipe their gums gently with a wet soft washcloth or gauze to remove bacteria after each feeding.
You may also like to use a finger brush which is available and has soft silicone bristles at the end. All you need is to clean your baby's mouth and remove germs and bits of food.
Children under 3 years old
According to the American Academy of Pediatrics (AAP), as soon as your child's first teeth erupt, it is recommended to brush them two times a day (morning and night) with a smear amount of fluoride toothpaste—the size of the grain of rice.
Until they have good brushing skills, you should help your child with brushing their teeth. Also, you need to supervise them to make sure they learn to spit out the toothpaste and not swallow it.
Remember to take your child to the dentist or a pediatrician for a checkup with the eruption of the first tooth or when children turn 1 year old.
Age 3-6 years old
By age 3, children will have their full set of 20 primary teeth. Brush your child's teeth twice a day and for two minutes each time. As AAP states, parents should use pea-size amount of fluoride toothpaste on the child's toothbrush once they are beyond 3 years of age.
With a mouthful of teeth, you should also consider flossing as part of oral hygiene to clean between your child's teeth daily and enhance gum health effectively.
Children may not master brushing until 6 or even 8, make sure you help them with both brushing and flossing. Remember that healthy baby teeth will help your child speak, eat, and have a bright smile. But more importantly, these baby teeth will keep the space until they fall out and are replaced by permanent teeth.
How much fluoride toothpaste should young children use?
Both American Dental Association (ADA) and American Academy of Pediatrics (AAP) have long supported the use of fluoride as safe and effective for young children as well as adults in preventing tooth decay. In fact, all toothpaste must contain fluoride in order to receive the ADA Seal of Acceptance.
The fluoride recommendations for children younger and older than 3
According to both ADA and AAP, parents should stick to the recommended level of fluoride toothpaste—a smear amount for children younger than 3 and a pea-sized amount for children above 3—to prevent the risk of caries (decay) in their children.
It is important, however, to encourage children to spit out the toothpaste and avoid swallowing it. Overtime, the excessive consumption of fluoride can cause damage to the enamel. This is a condition called dental fluorosis, which occurs during a child's teeth forming years from birth to age 8.
Remember that children benefit from fluoride through drinking water, foods, and beverages. Considering these potential sources of fluoride, ADA has recommended smear amount of fluoride toothpaste for younger than 3 and the pea-sized amount for children beyond 3 years of age. This amount will reduce the risk of your child developing fluorosis. So, it is safe and shouldn't make you worry about that.
If your child is younger than 2 and you are concerned about fluoride intake, ADA also suggests that parents and caregivers consult with a dentist before using fluoride toothpaste or use only water for brushing.
Keep the toothpaste out of the little ones' reach
Additionally, keep the fluoride toothpaste away from very young children as they may swallow a large amount of it. This can be toxic and will put your child's health at serious risk.
If that occurs, call the National Capital Poison Center or use their online tool to know more about the exact symptoms and do what they say.
How to brush baby's teeth when they refuse?
When your baby still doesn't have teeth, or has just developed teeth, gently wipe the gums with a soft washcloth and use a finger brush or infant brush to clean those sharp incisors!
As children grow older, they may become more physically uncooperative and unwilling for their teeth and mouth cleaning. And as toddlers, they want some fun, too.
So here are some fundamental tips on brushing baby teeth and establishing a healthy environment to make them do the toothbrushing: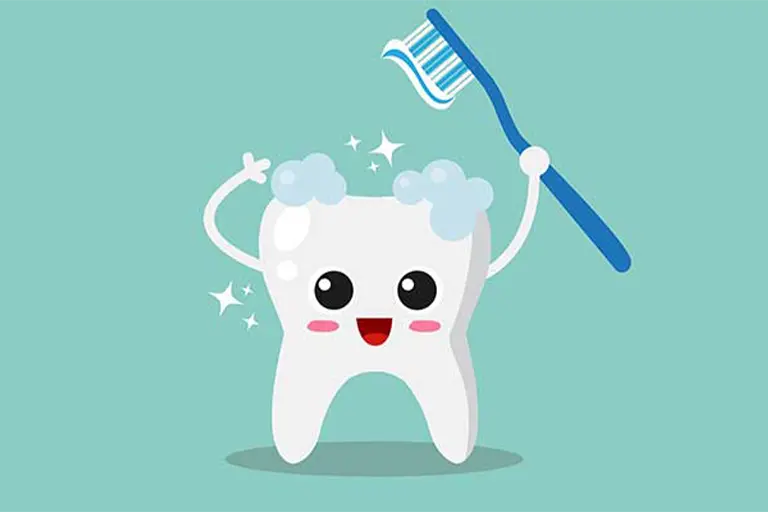 Choose the appropriate age-sized toothbrush
During the time that your child teething, they always want to stick items in their mouth to relieve their discomfort. It is a good idea to introduce a soft-bristled brush with funny shapes or teether-style ones. With your supervision, they may begin to grasp the brush themselves and use them for their little oral hygiene during their playtime.
When it comes to the best toothbrush for your toddler, select the one that is right for their age. The toothbrush should have a small head to enable your child to fit it in their mouth and practice a better teeth-cleaning maneuver. The bristles should be soft not to harm the tooth enamel and their delicate gums.
Feel free to choose either a manual or an electric toothbrush. Just make sure you will buy the appropriate child-sized brush. Both manual and electric are effective. With the electric brushes, your toddler has the advantage of timer and sound to guide them for 2-minute recommended brushing time.
Make it fun
Not all children will enjoy toothbrushing. It is normal and many parents will have to come up with some ways to encourage their children to brush:
Here are some tricks to try:
Choose the color and the design that your child likes most about their brush. Their favorite color and the animal or favorite cartoon character will make their oral care routine much more exciting and enjoyable for them.
Play some happy toothbrushing songs that keep your kids brush by. Watch the video placed below. It is a funny example.
As children like to copy others, take turns in brushing or ask other family members to show them how to brush.
Make things funny by bringing a doll and letting your child brush the toy's teeth without using toothpaste, of course. Then make them practice that on their own teeth while the smear amount of toothpaste is on their brush.
The Sesame Street's song "Healthy Teeth, Healthy Me, Brushy Brush" with Elmo together with families and their kids is one great option:
Make a proper position
Using a correct position allow the parents to do the toothbrushing comfortably in young children.
Get your child to sit or stand in front of you, so you can cradle their head with one hand and use the other hand for brushing. If that doesn't work, make your child recline on sofa or on the floor. While on your lap, stabilize their head with one hand backward. Then brush their teeth.
In more difficult children, both parents should work to help each other while the brushing is being done. This could be making the child busy with a funny action or trying to immobilize the child in position by one parent.