If you are missing your teeth, you definitely look for a replacement over the lost tooth to save your smile. One quick solution is using flipper tooth, which is removable, cost-effective and can even serve as a temporary and permanent treatment depending on your needs until you make up your mind.
What is a flipper tooth?
Flipper tooth, known as acrylic removable partial denture, is a removable retainer that sits on the lower jaw or fits along the roof of your mouth (palate) with a number of prosthetic teeth attached to it.
Since flipper tooth is a removable partial denture, you may want to know what a partial denture is? A partial denture, as the name suggests, covers the part of your mouth that the teeth are missing with a false teeth and acrylic base that matches the color of your gum. Flipper tooth, also called flipper denture, is a type of a removable partial denture made mostly to replace the front teeth.
Your dentist or prosthodontist can design one single tooth or a number of teeth as your permanent tooth replacement or a temporary treat to replace your missing teeth.
Flipper tooth can serve you
When you have lost front teeth due to injury, extraction, cavities and decay.
As a permanent tooth replacement for your missing teeth
As a temporary tooth replacement until your ultimate decision
Anybody who wants a cosmetic look especially an aesthetic smile of the front teeth
Any individual who wants a convenient, removable and functional tooth replacement
As an interim solution before procedures like dental implant is finally done. Flipper denture is a great choice, for example, children that are too young or adults that need further operations like bone grafting can benefit form it. Even undergoing dental implant requires healing time, so it is a great interim ,cosmetic and practical denture that you can use for covering the gaps until the healing is over.
Benefits of dental flipper tooth
With an attractive prosthetic option like flipper tooth, you can enjoy an improved smile that comes with many benefits including:
Affordable
Flipper tooth is a cheaper prosthetic tooth among the other types of dentures. They are also affordable compared to dental implants. But implant is still the best permanent tooth replacement.
Improved appearance and natural look
With false teeth similar exactly in color and shape to natural teeth, flipper tooth feels natural and offers an enhanced smile and look. Not only do the gaps and missing teeth are filled, but also a beautiful appearance is achieved. You don't have worries anymore about how your front teeth may look.
Removable and easy wearing
Flipper tooth is convenient. You remove them easily and snap it back in your mouth whenever you want. That means no difficulty in eating and chewing what you want.
Stability of surrounding teeth
When a tooth is missing, the other teeth can drift into the edentulous area (missing place of the lost tooth). This makes other teeth rotate and grow into abnormal angles, making disruption in occlusion and causing lack of enough space in the missing area for later permanent tooth placement. Flipper tooth is, therefore, a good fit for these needs.
Easy making and manufacture process
Once the impression is taken to get your mold for flipper fabrication, it doesn't take much of your time. That same day or the next day, your dentist prepares your custom-made artificial tooth.
A great option during healing from dental procedures
Healing from certain dental procedures like tooth extraction can sometimes take months. Dental flipper will fill the gaps and sit on your healing wound from tooth extraction or procedures such as bone grafting. This way, you have time to prepare for a more permanent and fixed solution like dental implants.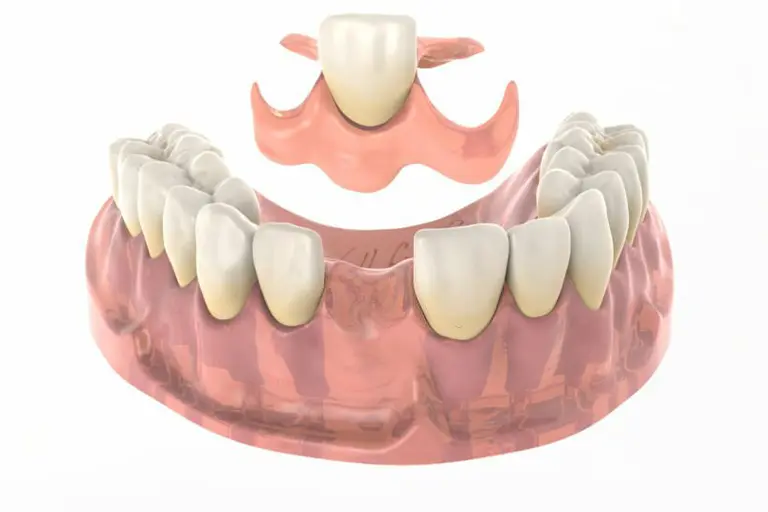 Can I eat with a flipper tooth?
Yes, you can eat and chew with flipper denture just like your normal daily life. But it doesn't mean you bite hard and chew aggressively. After all, it is a type of denture and a prosthetic tooth, so it requires care and attention on eating. Even better, you eat much comfortably compared with times that there were no teeth to chew with.
Drawbacks of flipper tooth
Although flipper tooth is affordable and a faster tooth replacement, there are some cons and drawbacks including:
Cleaning and care
As is true for any false teeth, foods can get trapped between and underneath the flipper teeth, so regular cleaning is necessary. Even natural teeth need care, but for prosthetic fixtures, your attention is needed. You shouldn't forget to clean it regularly to have a healthier mouth. Ensure that no food residue remains around the flipper tooth.
Durability
Some cheaper flipper teeth may be made of materials that are not durable. Low-quality materials can result in more breakage and cracks. Therefore, you should have it repaired or get a new one made.
Discomfort
By wearing your flipper denture for the first time, you may not feel comfortable. Feeling of a foreign object on your teeth may create irritations and cause uncomfortable situations. You should get used to it or be patient for a while.
Oral health risks
Flipper tooth sits on part of your gum and the palate of your mouth, so it has direct contact with gums and also with other teeth nearby. When you don't clean the flipper tooth regularly, risks of gum disease, tooth decay, and fungal development will increase. To prevent any oral health risks, you should maintain a routine cleaning and disinfecting of your prosthetic tooth.
Loosening and readjusting
If flipper tooth is used for long periods of time, it may get loose and will not tightly fit in position as it used to grasp around your existing teeth. Your dentist should readjust or repair parts of the appliance to fit well again.
You can look at the most important pros and cons of flipper tooth in the table below in a glance:
Pros
Less expensive
Quicker preparation
High aesthetics
Convenient
Preserving missing area
cons
Initial discomfort
May break
Unhealthy gums if not cleaned
Maintenance
Mostly used as temporary solution
Flipper tooth cost
You can expect a price range from $300 to $500 for a flipper tooth. The cost can vary and depends on the materials used, the number of prosthetic teeth made and other factors. Check out whether dental insurance plan covers the part of the expenses.
Having an insurance coverage for dentures can help you manage the cost. Keep in mind that you have to repair or readjust the flipper denture if they become loose or get damaged. Thus, you have additional fees to pay.
How to take care of your flipper tooth?
Since a flipper tooth is a type of dentures and is similar to retainer, the cleaning is also the same as these dental appliances. You may want to read how to care for dentures for more details.
Follow the caring and maintenance steps below regularly to ensure healthier gums and teeth and a stable flipper:
Take your flipper tooth out every night when you want to go to sleep
Use a glass of cold water for storage when not used to keep the flipper tooth wet and prevent warping
Clean routinely after each meal under running water. Use a flipper partial denture brush, mild soap and other safe cleaning solutions to disinfect and get rid of food debris.
Once in a while during the week (2 or 3 times), put the flipper tooth in a denture cleanser solution overnight. By doing that, you eliminate the growth of fungus and bacteria on your dental prosthesis.
Do not forget to clean your mouth and brush the other teeth before placing the flipper tooth in. You can ensure a fresh smile with no risks of oral health problems.
Avoid using hot water or house bleaching products for cleaning because it damages the dental appliance.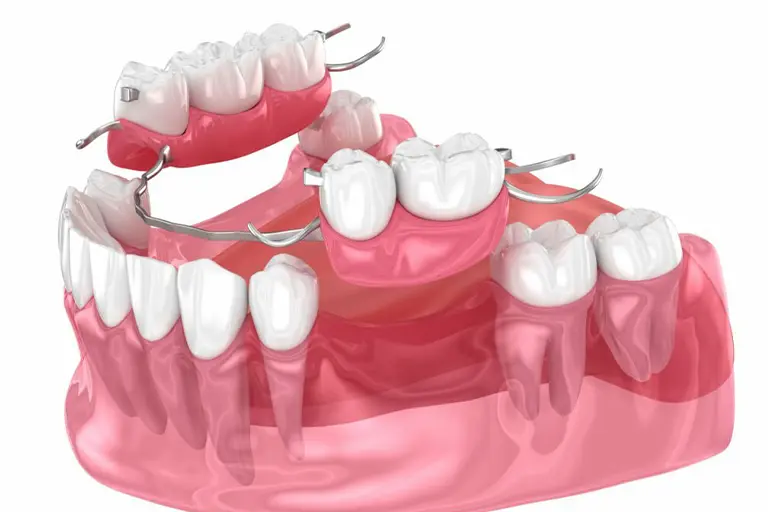 Alternatives to a flipper tooth
Permanent options:
Sometimes, your dentist may offer a permanent fix because it suits you well and smile is made in its best way. So, a longer and durable option can perfectly take the place of your teeth.
Dental implant: Having a dental implant is by far the most stable and the most long-lasting missing tooth replacement. You only need to go beyond your budget and have enough bone quality to surgically insert the implant in your jaw bone.
Dental bridges: Dental bridge is another fixed option that is both cosmetic and functional. Instead of acrylic base that touches your gums, as in the flipper, prosthetic tooth is seated and fixed using the surrounding tooth. Dentists use a crown on adjacent teeth or an implant to anchor the false tooth in between, which is called pontic. They can also cement it in place and use bonding materials for fitting your false teeth.
Temporary options:
If you are looking for a more economical option compared to permanent fixes, you can opt for the fixed partial dentures, which are more expensive than flipper tooth. Or you may choose Snap-on smile veneers, which can be lower in price.
Fixed partial dentures: Partial dentures are used for partially missing teeth. These dentures are fixed and can't be removed unless the dentist remove them for you. Your dentist/prosthodontist will use metal framework, claps or other devices over your remaining healthy teeth or implants to firmly fix the denture. Depending on the number of teeth that you need, false teeth are attached to give you a natural and beautiful look.
Snap-on smile: Snap-on smile or DIY veneers are another option for missing teeth that cover your teeth and not the gums or palate as in dentures. They bring about a beautiful smile and benefit all people regardless of age. You fit them over your natural teeth and they cover gaps, spaces and mask any discoloration on teeth.
The final say
A flipper tooth is an affordable and easy-to-manufacture option that is both convenient and beautiful dental prosthesis. Most people select this partial denture to fill the gaps of their missing teeth because of less costs and removability.
Flipper tooth was originally recommended for a temporary use, but most people may want to use it more often to save their smile. It is widely used for kids before they are able to receive a dental implant in later ages. It is a popular temporary way to cover the gap of a lost tooth due to extraction or when you have to wait for gums to heal. Whatever the reason, a dentist or dental professional can always help you find the perfect treatment that go with your preferences and conditions.