After your orthodontics with braces is over, now comes the time for wearing retainers to complete your treatment. After all the months or maybe years of straightening stage with aligners or braces, your teeth have moved to the perfect positions. So, you must wear a retainer for a recommended period of time to prevent teeth from shifting back. Retainers are custom-made like other appliances in orthodontics and are worn to stabilize your newly aligned teeth.
How long should you wear a retainer?
The truth is you have to wear retainers for as long as your orthodontist has recommended. Sometimes it can take 18 months to 2 years. Most of the time, wearing retainers can take years and in some cases even for life. But one thing you should know is the time right after finishing your braces or aligners, which you need regular and more hours for wearing the retainer.
Wearing retainers in the first 6 months with longer hours during the day after braces or aligners is necessary. It shouldn't be ignored and it is crucial in preventing teeth from moving back to their original place. After six months, depending on your dental condition, wearing hours can be reduced during the day. You might just need to wear them at night-time during sleep.
How long do I have to wear retainers per day?
Some people ask questions like "Do I have to wear my retainers 24/7?" or "What happens if I wear my retainers at night?" Yes, you should wear your retainers 24/7 in the early months after your orthodontics with braces or aligners. Each period of treatment has an initial full-time wear that requires maximum daily wearing. Removable retainers can only be taken out for eating or brushing.
Generally, in the first 6 months, you need to wear retainers for at least 22 hours daily or more. After 6 months of wearing retainers, your orthodontist decides whether you can just wear retainers at night or reduce the frequency of wear time depending on your case.
Fixed or removable retainers: How long should I wear them?
By the time you finish wearing braces or aligners, your orthodontist again offers either fixed or removable appliances. This time for retainers.
Fixed retainers
Fixed retainers, also known as permanent bonded retainer, are attached to your teeth like braces. A permanent retainer is glued to the back of the teeth after your braces are removed. Your orthodontist recommends it in case you need to wear your retainer all the time. They help prevent your teeth from shifting. They are usually bonded to the bottom teeth, but can be used for top teeth, too. You should visit your orthodontist to remove them.
A permanent retainer is in your mouth all the time. Therefore, you will not have any worries about compliance with hours and days of wearing. In your regular appointments, your orthodontist can adjust or check your retainer condition. They can determine whether you need to wear the retainer longer.
Permanent retainers are sturdy and last a long time. However, if your permanent retainer breaks, it is important to visit your orthodontist as soon as possible to prevent teeth from moving.
Pros:
They are worn full-time and you don't worry if you forget to wear them.
They keep your teeth in a stable position continuously.
Cons:
Difficulty in brushing or flossing.
Require more attention on oral hygiene due to risks of plaque buildup around teeth.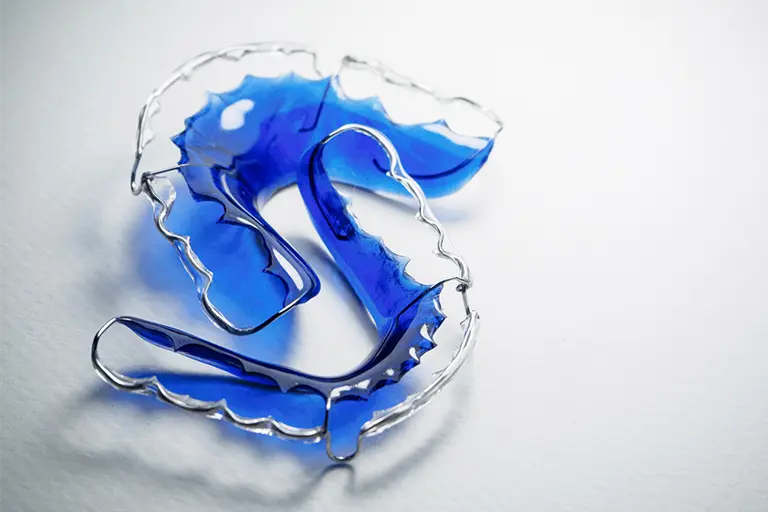 Removable retainers
A removable retainer can be removed during eating or when you brush your teeth. During the first 4 to 6 months, you have to wear them full-time. However, they can be worn on a part-time basis later depending on your needs. You should manage the daily hours of wearing your removable retainers. If you forget or avoid wearing your removable retainers, your teeth get back to the previous place and this is not what you want.
Hawley retainer is one well-known removable type. It has different designs and modifications, which make it much more adaptable for different purposes. Hawley retainers are made from acrylic plastic and metal wire that fit over your teeth.
Clear plastic retainer is another type of removable retainer. They are invisible plastics shaped like aligners that are molded to fit snugly over your teeth. Similar just like Invisalign, clear retainers are meant to keep teeth in their new position and not for straightening.
In recent years, clear plastic retainers have become popular because people find it more comfortable, not bulky, and almost invisible in their mouth.
Pros:
Easy brushing and cleaning teeth since they can be removed.
No problems with foods getting into your retainers.
Cons:
Commitment to wearing time and recommended hours.
If you forget or ignore wearing frequently, there are higher risks for relapse and changes in your aligned teeth.
Need cooperation especially when it comes to children.
Why is it necessary to wear a retainer?
Think about that like that. How can orthodontists move those teeth that are firm and hard in their place? The answer lies in the structure of our periodontal ligament, where teeth are located. This is the area with a collagenous structure consisting of ligaments and gums surrounding our teeth. Orthodontists can move teeth within months, but teeth can get back to their position if not held in place. This is what orthodontists call relapse.
Therefore, wearing a retainer is the last stage but a key part of getting the beautiful smile you have been waiting for.
What happens if I stop wearing retainers?
Never think about putting your retainers aside. They are an essential part of every orthodontic treatment. After the realignment of teeth with braces, teeth can shift back to the previous place and it can ruin all the time and costs you have spent on your orthodontics. But by wearing retainers you not only help your teeth to be firm and look good in their new positions but you can prevent any relapse.
Conclusion
It is important to stick to the exact length of time for your retainer. Follow how long you should wear them according to your orthodontist's instructions. This maintains perfect results and a straight smile for a lifetime. Factors like your dental condition, the braces' treatment time, or retainer type can all affect the duration you need to wear a retainer.