Wearing retainers whether removable or permanent retainers (bonded retainer) is an important part of orthodontic treatment. After your teeth have moved and aligned in their new positions with braces, it is time to wear a retainer to prevent your teeth from moving back. This article will help you understand permanent retainers and learn both the advantages and disadvantages and caring tips of this orthodontic device.
What are permanent retainers?
A permanent retainer also called a fixed or bonded retainer, is made of a thin piece of metal wire that is glued to the back of your teeth. It maintains the new position achieved by your braces and will keep the teeth from shifting, spacing, and getting crooked.
Orthodontists bond the wire retainer immediately after braces. Usually, they do that just before the braces are removed.
Permanent retainers are typically used on the bottom teeth on the back of your front teeth. Depending on the type of dental condition, your dental professional can use them for your top teeth, too.
Permanent retainers, as the name suggests, are meant to stay on your teeth to keep them from moving and rotating. Only your dental professional can remove them.
Your orthodontist recommends that you keep a permanent retainer in place for the entire retention period. You might need to wear it as long as you want to have your teeth straight and the smile glow. It could take some years, or in most cases a lifetime depending on your orthodontic treatment.
Types of permanent retainers
Generally, there are two types of permanent retainers:
In the first type, the wire is attached to each individual tooth.
In the second type, the wire is glued only to the teeth on the end and not bonded to the teeth in between.
Reasons why a permanent retainer is used
Permanent retainers are especially recommended when there is a need for long-time retention. They work best to keep gaps or overcrowded teeth closed in the front teeth. Also, a permanent retainer is a perfect option for those people who don't want to remember when to wear or place a retainer in the mouth, which you should do with removable types.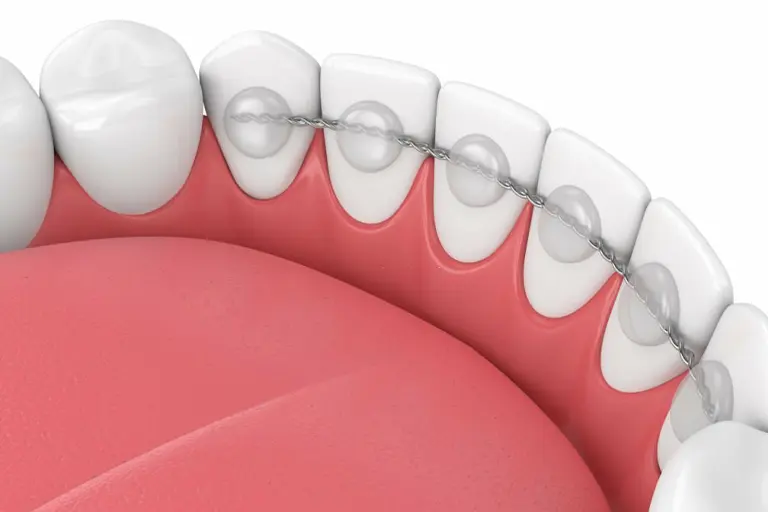 Advantages and disadvantages
There are benefits and also drawbacks to using a permanent retainer.
Pros of permanent retainers
No hassles of remembering to wear or take them off. One of the great advantages of permanent retainers is that they don't require a person to remember to wear them. This means you don't have worries about compliance with the recommended time.
Invisible. The retainer is bonded on the inner side of your mouth and goes behind your teeth, so one notices that you are actually wearing it.
Affordable. Given that a permanent retainer is less likely to break or get lost and therefore requires fewer dental appointments, it stands on the affordable side compared to removable ones.
They can't be lost or misplaced. Because it is attached, a permanent retainer is impossible to lose and is an easy-to-get-along-with orthodontic appliance, unlike removable retainers.
Cons of permanent retainers
Make it more difficult to clean your teeth. Brushing and flossing around a permanent retainer require extra effort and can be challenging. If the area around the wire is not properly cleaned, you run the risk of cavities and gum diseases.
The metal wire may irritate your tongue. Having a metal object on the back of your teeth may cause discomfort when your tongue scratches and rubs against the retainer all the time. Until you get used to the wire in your mouth, you may have irritation and uncomfortable feelings, especially in your early days.
Hard foods can bend or wear out the wire. Biting on very hard foods, like apples or foods that could get stuck in between the wire, may bend, weaken, or even break the retainer. The bonding material may also wear out on your teeth with constant eating and drinking of foods and beverages with artificial sugar and additives.
What Should I do If my permanent retainer breaks or falls off?
In case your permanent retainer breaks or falls off, visit your orthodontist for replacement or repair within days. Of course, waiting too long can cause an unwanted dental condition.
If the composite has gotten off and debonded, your orthodontist will bond it again in a simple procedure. With bent or broken wire, you will have to get a new one made. It can take time or even multiple dental visits.
How much do permanent retainers cost?
A permanent retainer, or bonded retainer, can cost around $150 to $500 on average. If you have it placed on both lower and upper teeth, the cost can get to $1,000.
Cleaning your teeth and maintenance of a permanent retainer
When it comes to a permanent retainer, oral hygiene becomes even more important. The bonded wire can easily trap food debris and become the area where plaque accumulates, causing the overgrowth of bacteria. If you are unable to clean your teeth well, bacteria can cause tooth decay and cavities. The plaque bacteria can also spread to the gum line which leads to gingivitis and periodontal problems.
However, with good oral hygiene, you can prevent any dental issues. Here are some cleaning and maintenance tips:
Brush your teeth at least twice daily. Make sure the bristles get into the areas around the retainer and your teeth and remember to brush all around the retainer carefully and gently to avoid breakage.
Floss after each meal or once a day. There are several ways to make flossing with permanent retainers easier like floss threaders or water flossers which are great options to try.
Try to avoid biting into very hard foods and eating chewy, sticky foods.
Avoid biting into very hard foods and eating chewy, sticky foods that may get stuck in your retainer.
Call your orthodontist ASAP if you notice that something has gone wrong with your retainer or teeth.
Have regular dental visits to remove tartar and plaque and have your oral health checked.
Remember that permanent retainers can last for years and run you a lifetime of straight teeth. So, practice good oral hygiene and take care of your retainer.
Frequently asked questions
How long will you need to wear a permanent retainer?
A person might need to wear a permanent retainer for the rest of their life. As long as teeth need to be kept straight that way according to the orthodontist's instruction, it should remain on your teeth.
Can your teeth shift with a permanent retainer?
Wearing a permanent retainer is the best way when it comes to keeping your teeth and bite from shifting or changing shape. However, with a broken and bent retainer that has not been fixed and worn for days and weeks, your teeth can shift.
How long do permanent retainers last?
A permanent retainer can last up to 20 years depending on how well it is cared for. So, with proper oral hygiene and good maintenance, you can expect to have it in place for many years.