Braces are dental devices to straighten teeth and fix jaw malocclusions. They come in various types and are important appliances orthodontists use to treat crowded, spaced, and crooked teeth and address more complex orthodontic problems like bite issues.
Having straighter teeth can mean a better smile appearance, resulting in higher self-confidence and self-esteem. Besides this, braces bring about good oral health and contribute to improved speaking and chewing functions.
If you are an adult or a teenager looking for the right type of braces that is within your budget, there is a wide range to meet your needs. Also, if your child needs any orthodontic work, let your orthodontist or a pediatric dentist find the best solution and address their dental conditions as early as it should.
We will touch on the basics that you might want to know about braces. This article covers how they work, the different types with benefits and drawbacks each, the cost, and other frequently asked questions.
How do braces work?
Simply, braces whether fixed or removable aligners work to apply pressures to teeth to move them into the desired positions.
With fixed braces, the brackets are bonded to teeth and the archwire is threaded into the brackets to help pull or push the misaligned teeth slowly for the best positions. Your orthodontist will tighten and readjust the braces during the appointments in order to accomplish the final teeth movements.
Clear aligners work the same but with plastic mouth guard-shaped trays you wear over your teeth. Therefore, there are no brackets and wires but a series of aligners each designed to move teeth at a time.
How to know if you need braces?
Braces have come a long way to address various orthodontic misalignments and malocclusions.
Here are some reasons your orthodontist or dentist recommends getting braces:
Gaps and spaces between the teeth: They are unique orthodontic tools to close spaces between the teeth such as midline diastema, space in case of tooth extraction or missing teeth.
Bite malocclusions: The correction of overbite (deep bite), underbite, crossbite, and other bite issues are those important orthodontic problems people often seek treatment.
Open bite: Your child may have an open bite issue and if not treated, it causes significant impacts on appearance and oral health as they grow up. It occurs mainly due to prolonged thumb-sucking or tongue thrust habits during early child's life.
Crooked and crowded teeth: Crooked and overcrowded teeth affect oral health and smile negatively, so getting orthodontic treatment with your braces will fix that for you easily.
Impacted teeth: Factors like longer retention of primary teeth, eruption problems, or arch deficiency may lead to impacted teeth problems. So, you might need either orthodontic treatment with braces to save the tooth or do an extraction.
Why should you have your orthodontic problem treated?
Left untreated, your dental problem can lead to a series of consequences, including:
Higher risk of tooth decay and gum disease due to difficulty in teeth cleaning
Teeth are more prone to enamel damage and injuries because of abnormal bite or position of teeth
Affected smile appearance causing emotional and psychosocial problems which increase self-conscious feelings about your look
Speech impediments
More problems with eating and chewing
Types of braces
Braces are divided into two main forms: fixed and removable (also called clear aligners).
Fixed braces
Fixed braces use the adjustable archwire running through brackets and bands which are attached to your teeth to put pressure and thus align teeth and jaws. They are placed by an orthodontist and are the widely used type.
Fixed braces consist of some key components:
Archwire: The metal wire that connects the brackets on your teeth to apply the force needed to align teeth. It is mainly made of stainless steel but is available in titanium alloy. You can also try the tooth-colored or white-coated wires and clear polymer archwires for better esthetics.
Brackets: Brackets are attached to the teeth using adhesives like composite resin. They create an evenly force provided by the archwires for each specific tooth. Conventionally, brackets are made of stainless steel or titanium, but there are clear and esthetic ceramic and plastic brackets to satisfy your invisible look of braces.
Plastic components: Braces can have elastomeric ligatures, known as elastic ties which are small doughnut-shaped plastics to tie the brackets and the archwire together. Rubber bands (elastics) are another plastic tool used to pull and realign teeth between the upper and lower jaws. You can make your orthodontic treatment entertaining and decrease the visibility of metals by using colored braces for these different plastic parts of your braces.
Anchorage devices: Orthodontists can various techniques and devices to help your braces work as effectively as possible. In order to guide pressures and straighten your teeth even in complex teeth movements, anchorage devices are used. Anchorage can take many shapes and designs.
Here are the four main types of fixed braces:
They include the conventional metal 'train track' braces, self-ligating, tooth-colored ceramic braces, and the completely invisible lingual types that go behind your teeth.
1.Traditional metal braces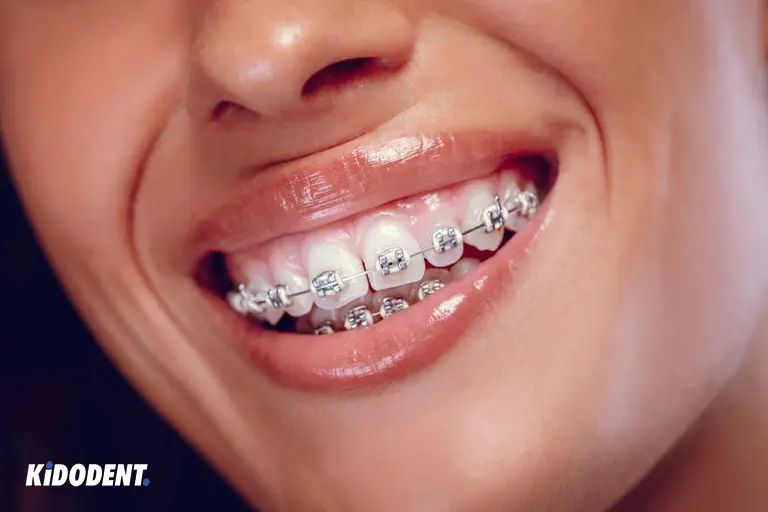 Metal braces have been the option of choice for years by orthodontists to straighten teeth and realign malocclusions. They are often known as traditional braces or conventional braces. Depending on the condition, treatment time can take 12-24 months but it is usually shorter with traditional braces. Although today's metal braces are more modern in design, smaller, and lighter, they are still the most noticeable type of braces and imply that "metal mouth" you often picture when you hear the word braces.
Pros
Least expensive
Can make it fun with colors for kids, teens, and adults
Versatile and effective
Cons
Most noticeable type
Difficulty in brushing and flossing teeth
Require frequent wire tightening and adjustments
2-Ceramic braces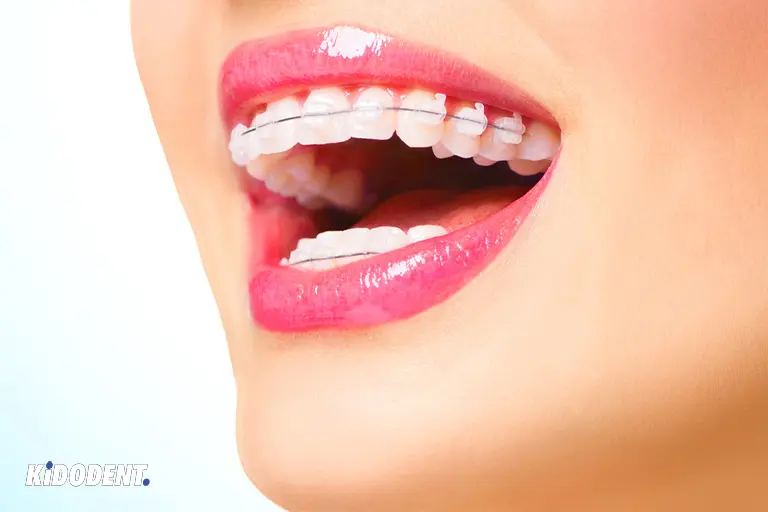 Ceramic braces are more discreet and less noticeable types compared to traditional metal braces. They have ceramic brackets instead of metal which are clear and tooth-colored to blend in well with the color of your teeth.
You can opt for tooth-colored wires and clear elastics to make a perfect combination with the white brackets for an almost invisible appearance.
Ceramic braces are as effective as metal and work similarly. However, the material used makes them truly subtle and less obvious braces.
The ceramic material is like glass and the brackets of this type are more brittle compared to metal. They may break under pressure or when eating harsh foods. Also, given the clear color, ceramic braces are more prone to staining and discoloration. Therefore, they may pick stains easily when drinking or eating high-pigmented drinks and foods.
The duration of orthodontic treatment is the same, but on average, the cost of ceramic braces is higher than traditional metal braces.
Pros
Tooth-colored and more esthetic
As effective and fast as traditional metal braces
More comfortable
Cons
More expensive than metal braces
Still a fixed option, so poses difficulty when cleaning teeth
Can stain if not cared for well
Brittle and may break
3-Self-ligating braces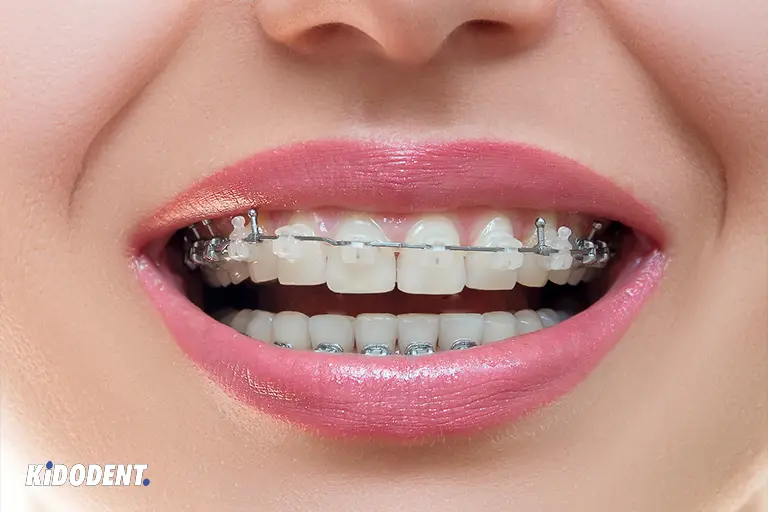 Self-ligating braces are much more advanced form of traditional metal braces in that they use an in-built clip or slide system in brackets design to hold the archwire.
Backed by the latest modern mechanics in design, self-ligating braces are beyond just straight teeth and offer excellent performance for optimal results.
The best advantage of self-ligating braces is engaging the archwire with low friction to efficiently move the teeth. This offers precision control over teeth movements and gentler force to straighten teeth which results in highly comfortable orthodontic treatment. There are even claims for faster treatment time with self-ligating braces compared to conventional braces, but this is yet to be studied.
One thing is for sure self-ligating braces offer less chair-time and more comfortable adjustment periods which eases your braces application. This can mean fewer appointments which in turn causes them to be affordable and convenient braces to choose.
However, they have one drawback for those who want colored braces. The elastic ties are not required anymore and therefore no chance for brace wearers to express themselves with colors on their brackets.
But don't worry there are various clear bracket options out there either made of ceramic or transparent material. Brands like Ormco offer their state-of-the-art Damon Clear system that provides polycrystalline alumina brackets which are the aesthetic material for your good-look braces' demand.
Self-ligation technology eliminates the need for elastomeric (elastic ties). However, lack of them can be associated with better oral health because it prevents bacteria buildup and staining on them.
Pros
More comfortable and least irritating fixed braces
Better appearance available in both transparent and ceramic brackets
Faster treatment time
Improved oral hygiene due to no elastic ties used
Fewer visits to the dentists for adjustment
Cons
No choice of colors since no elastic ligatures are used around brackets
Challenges in brushing and flossing again due to fixed nature
4-Lingual Braces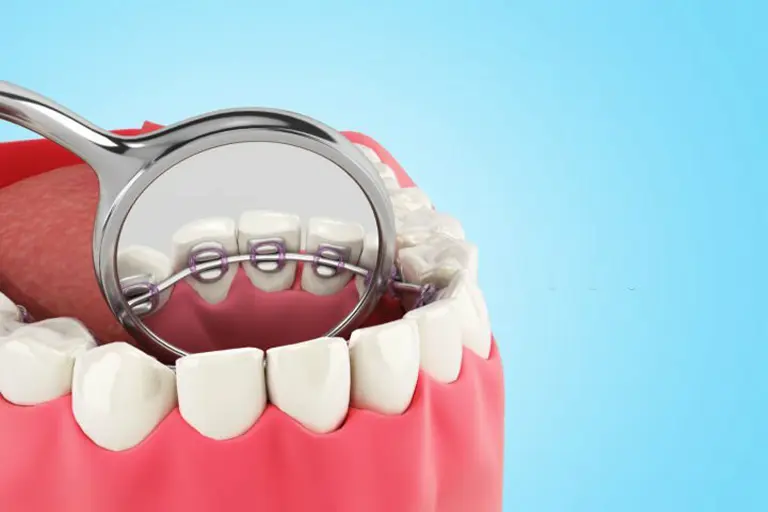 Lingual braces are similar to traditional metal braces except for one big difference in that they are placed on the inside of your teeth.
The major benefit of lingual braces is that they are invisible from the outside look. This keeps them a top choice if you are looking to keep your braces hidden from the public. So, they are a preferred option to have your normal smile appearance while undergoing treatment.
Lingual braces take longer to place and adjustments are more time-consuming than traditional metal braces.
They create some challenges to keeping the back side of your teeth clean. You may not access comfortably to the back surface of your teeth to brush and floss normally. Their distinctive position can also irritate your tongue and cause speech problems at first.
According to studies, lingual braces reduce the incident of white spot lesions or the enamel demineralization of your teeth, the common problem in traditional metal braces.
Previously, lingual braces were only used for adults and they couldn't be used for teenagers and children. This was due to smaller tooth size and not enough bonding area to attach the brackets among this age group. However, over time, the development of completely customized lingual braces has enabled orthodontists to place them for children and teens, too. Incognito and WIN are major names, producing custom-made, high quality lingual braces for every age to straighten their teeth into perfect positions.
Pros
Best esthetic fixed braces
Virtually invisible
Prevents enamel demineralization of teeth
Cons
More expensive than other types of braces
Greater irritation and discomfort
Difficult to clean
Longer chair time and difficult to manipulate and adjust by orthodontist
Aligners (Invisalign)
Aligners are considered removable orthodontics and come in a series of custom-made plastic trays each made to move teeth in small increments. They are often called Invisalign, the major brand name in clear aligners.
Invisalign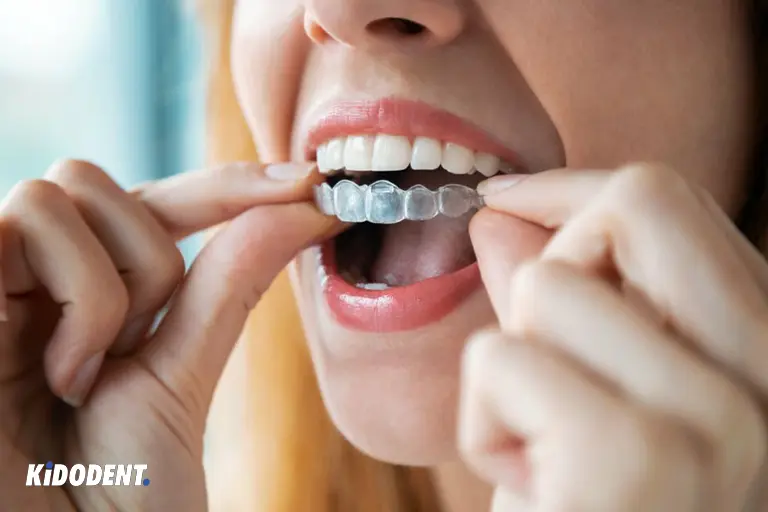 Invisalign, (often known as invisible braces), is a discreet option used for years to treat a wide range of orthodontic problems. They clearly satisfy even more self-conscious adults and anyone at any age who is looking for the most unnoticeable type of appliance to straighten their teeth.
Clear aligners are removable, meaning you have no trouble cleaning and eating. This is a great advantage over conventional braces.  
Treatment with Invisalign involves wearing removable custom-made transparent plastic aligners for 22 hours a day. There are some sets of aligner trays made to straighten your teeth to the optimal position. Each set is slightly different from the next, and once you fit them over, they feel snuggly. Switch out to the new aligners every 2 weeks or as recommended.
Invisalign uses the most innovative science in aligning teeth and cutting-edge proprietary technology in the production of customized aligners. You have your mouth scanned with the iTero scanner. The data is then transferred to Invisalign's ClinCheck software to plan your treatment. Your orthodontist will determine the whole process from the beginning to the end displayed on the computer. You can see for yourself how your new smile will look.
Aligners in general pose some limitations in treating severe dental conditions. However, the new developments in Invisalign (e.g., SmartForce features) over the years have allowed for treating mild, moderate as well as complex cases.
One of these features is Invisalign attachments which help aligners move teeth in desired directions, in order to achieve difficult teeth movements and get the perfect smile.
Pros
Invisible
Removable
Much more comfortable than braces
You can eat and drink whatever you want as they are removable
No trouble brushing and flossing
Cons
More expensive option
Require commitment, so may not be very suitable for children
May not be recommended for severe dental problems
How much do braces cost?
The cost of braces varies for each person's needs. It depends on factors like the treatment condition, the time it takes, the type of braces you choose, and where you live.
Dental insurance can cover parts of your orthodontic treatment, which help you reduce costs. There can be coverage limits with some dental insurance plans, and it's important to check your insurance provider.
There are more financing options to make your dental work less expensive. Payment plans, flexible savings account (FSA) funds, and health savings account (HAS) funds are such ways to pay for your braces.
If you are considering Invisalign, you might want to know more about this and whether insurance covers Invisalign.
Be informed that if you need oral health treatments before getting your braces, additional fees can add to your costs.
Here is the table to see how much each type of braces costs:
| | |
| --- | --- |
| Type of appliance | Price range |
| Traditional metal braces | $2,000 – $7,000 |
| Ceramic braces | $3,000 – $8,500 |
| Self-ligating braces | $2,000 – $8,000 |
| Lingual braces | $5,000 – $13,000 |
| Invisalign | $3,000 – $7,000 |
Do braces hurt?
Teeth are anchored in alveolar bone supported by periodontal ligament (PDL), consisting of networks of collagenous fibers. When braces are fitted, they apply light but prolonged force to each tooth using brackets and wires. The blood flow decreases in the compressed PDL and the tooth moves in its socket. As teeth move, the bone remodels and teeth are displaced into their new position.
This process gives you discomfort and pain but it is normal. You do feel pain especially in the initial days after braces fitting and following each readjustment.
You soon recover from this occasional pain and get your new beautiful, healthy smile in return.
Look at the below video explaining the braces work and pain.
Take over-the-counter pain medications like ibuprofen or acetaminophen if you feel pain after placing braces. Be sure to consult your dentist first.
In case metal wires and brackets cause irritation and mouth sores on the inner parts of your mouth, use dental wax to cover the irritating part of the appliance.
Cleaning teeth with braces
Brushing and flossing properly and regularly is always important, but when you have braces on, it is of vital importance. Keep your teeth clean to prevent plaque buildup and, thus, have them free of staining and tooth decay. Good oral care also keeps your treatment appliance, whether metal braces or aligners, to be in good shape during treatment.
It needs some learning in how to brush and floss with braces. As time goes, it gets easier. Use an interdental toothbrush or electric toothbrush to efficiently and easily clean the hard to reach areas of your teeth between brackets and the archwire.
You can use water flosser along with thread flossing to remove foods getting lodged in gaps between the teeth. Water flosser makes your job easier to navigate around the braces and to get your gum lines cleaned off the trapped food debris and plaque.
What foods to avoid with braces?
It is important to refrain from eating and drinking anything that increases risk of cavities or damage to your braces. Your orthodontist will likely provide a list of foods you can eat or you cannot to ensure that your fixed braces work properly and keep your teeth in good health. Here are some foods to avoid:
Chewy or sticky foods like candy, caramel, and chewing gum
Hard and crunchy foods like nuts, popcorn, and ice
Hard fruits and vegetables should be cut into smaller pieces like apples or raw carrots
Invisalign clear aligners don't create any food restriction since they are removable. However, following daily oral hygiene and avoiding foods and drinks that cause damage to your teeth is still a must-do for your health as well as Invisalign's better work.
Wearing retainers after braces: last stage of your orthodontics
"It is not over until it's over." After straightening your teeth with braces, they come off and will be replaced by retainers. A retainer is an orthodontic device to help keep your teeth in their new positions. During earlier months after braces, you may wear the retainer fully all day long. Afterward, you may wear it during some hours daily.
It is highly important to wear the retainer for the recommended time provided by your orthodontist.
Depending on your individual circumstance, your orthodontist may prescribe a fixed retainer which is adhered to your teeth. Or, you may need to wear a removable retainer like Hawley which could be taken out easily when eating and cleaning.