Everybody is looking for the right braces colors these days now that you can find dozens of colors available. With more colors comes more options for every taste and preference ranging from a subdued color for a professional setting to more stand-out colors.
As orthodontic treatment demands time and patience, getting your teeth straightened can be fun and enjoyable with colored braces. When you see your teeth are being corrected with the same traditional braces but with a little taste of decorative colors on brackets and rubber bands, it adds to the joy of the treatment to be continued with less attention on metals.
There is even the desire for matching braces colors with your eye color, your outfit, a special occasion, or even a sports team you are a fan of. Or less on the stylish side, some people may want to know which colors can make their teeth appear whiter.
In this article, we will explore these common issues and more questions like:
What color braces are there?
How to choose the best braces colors?
What color braces make teeth appear whiter or cause them to look yellow?
Which colors are suitable for adults in the professional workplace?
Or which colors make school time for boys or girls an enjoyable one?
Why do braces have colors and how do they work?
Orthodontic braces, or braces just, are a type of fixed orthodontic appliance to treat misalignment and irregularities in teeth and jaws. They work by pulling teeth into the alignment that orthodontists have planned to reach an esthetic position for teeth and get a perfect look. Ceramic braces and plastic braces are two types once developed to fit the needs of those people who were looking for less visibility than metal braces.
Then came another form of the orthodontic appliance but removable ones called clear aligners, which are shaped similarly to mouthguards and are made of transparent plastic.
But the orthodontics industry hasn't stopped there and provides the same metal braces with various color options. And you can select your favorite color for the components which could be in plastic forms like ligatures and elastic bands. So, each set of braces regardless of color has metal brackets that are cemented on the teeth and the archwire, which connects the brackets together.
There are other parts of braces called ligatures and elastic bands. They can be made of plastics, so they come with different color options which bear the name 'colored braces'.
Elastic ligatures (elastic O-rings)
Orthodontic elastic ligatures are tiny rubber bands that tie the brackets and the archwire together. They are commonly known as elastic O-rings and are used to align the occlusal forces in the right direction. Ligatures can also be in steel forms or can be made self-ligating and therefore no colors could be used in these cases.
Watch the below video to see the differences.
Chain
Orthodontic chains (braces power chains) are connected elastic ligatures. Chain has the same function as elastic ligatures for holding the brackets and the archwire together.
Elastics (rubber bands)
Elastics are used as an effective method as intraoral connectors between the anchorage devices of lower or upper jaw or between brackets from lower to upper teeth. Elastic bands are not used in every treatment with braces. They are mainly used to treat bite problems (e.g., crossbite), jaw deficiencies, and to guide growth modification among children and adolescents in orthodontic treatments.
See the below video on how elastics work.
What colors are there for braces?
Nowadays, you can find many braces colors available at the clinic and you are not committed to just a few colors like red or blue. You can choose among the many shades like white colors, bright colors, or darker color shades.
There is even a choice of color combination. So, you can ask your orthodontist to tie the elastic around the brackets according to alternating patterns for different teeth or for upper or lower teeth differently.
Some of the braces colors are:
Brightly neon colors
Silver color
Dark metallic colors
Glow-in-the-dark colors
And different shades of classic colors
Braces colors wheel
Braces colors wheel or braces color picker is a tool to let you pick your best colors among the colors available. There can be around 20 to 25 and more color options.
As you get your orthodontic treatment with braces, the color wheel will be provided by your orthodontist.
You can come up with great ideas once you look at colors that appear the best on the color picker. So, if you haven't made up your mind yet, it makes your decision easier and choosing even combinations of colors simpler.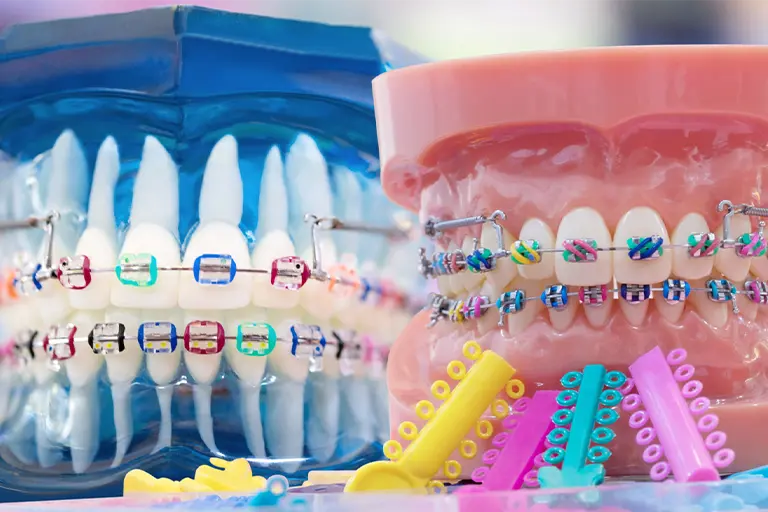 How often can I change colors for my braces?
You can change the colors of your braces every time you visit your orthodontist. Typically, your orthodontist schedule visits every 4-8 weeks for readjusting the braces. During these sessions, you can try another brace color option, so it should remain on the braces until the next appointment.
Not all individuals have the same orthodontic treatment time. Depending on the conditions, some people may have to wear braces for 12 months or 18 months, while treatment may take years for others. During this time scale, your orthodontist will schedule visits for readjustments or tightening and to check the amount of progress that has been made.
How to choose the best braces colors?
There are some ideas to help you choose the best colors for your braces. You might want colors that blend in and fit with the tone of your skin, your eye color, or even a special event. Colors can express your individuality and you can pick anything that you like. You might want shades that stand out and are eye-catching. Here are some ideas for choosing braces colors:
Choose darker shades to make your teeth appear whiter.
For darker skin tones and hair, choose dark blue, violet, orange, pink, turquoise, and gold.
For lighter skin tones and hair, choose dark purple, light blue, bronze, maroon, subdued red and pink.
Choose colors that complement your eyes.
Try colors that go perfectly with your clothes or school-themed colors that match the school uniform.
Choose silver, grey or clear color if you want a subdued color for a professional setting where you don't want the colors to stand out.
Choose colors according to your favorite sports team.
For special occasions and holidays, you can try your favorite color combinations like red and green for Christmas, Glow-in-the-dark for Halloween, red and white for Valentine's, or bright colors for April Fool's Day (Be aware that the colors may not be changed for some weeks or months).
Braces colors you should avoid:
Unless for a special occasion or personal preference, you might want to avoid certain colors like:
White, which stains easily and makes your teeth look yellow
Black, which may look like your teeth are rotten and can be unprofessional
Brown or lighter green, which can be mistaken for food leftovers on your teeth and look like stained teeth
Yellow or gold, which makes your teeth look yellow and sound like stains on your teeth
What braces colors make your teeth whiter?
If you want to make your teeth look whiter, choose darker shades or neutral colors to make a contrast with your teeth like dark blue (navy blue), dark purple, or dark green.
What braces colors make your teeth look yellow?
Yellow and white are two colors that make your teeth appear discolored. While white and off-white color options can intensify the yellow-toned teeth, lighter colors like pale yellow, brown, or beige make your teeth yellower and give an image of yellow-looking teeth even from a distance.
Color braces for children and teens
When it comes to color braces, children and teenagers can happily get along with their orthodontics especially when the color is one used by other classmates or friends or a color that teenagers may use to express themselves. Whether it is for paying more attention to braces care or staying away from being targeted by peers, color braces are a great encouraging way to make orthodontic treatment a funnier and more enjoyable experience.
In the meantime, you can help your child with more braces maintenance and care tips. You can better encourage children with daily teeth brushing and flossing. You may ask your kids to use mouthguards for protecting braces during sports or other physical activities. And also remind them that it is time for visiting the dentist/orthodontist for check-ups.
You can also make clear that children will need to wear retainers after their braces for some time. This is to get the aligned teeth to stay fixed in their places.
Websites like paintyoursmile can help you or your child get an idea of how color braces will look like.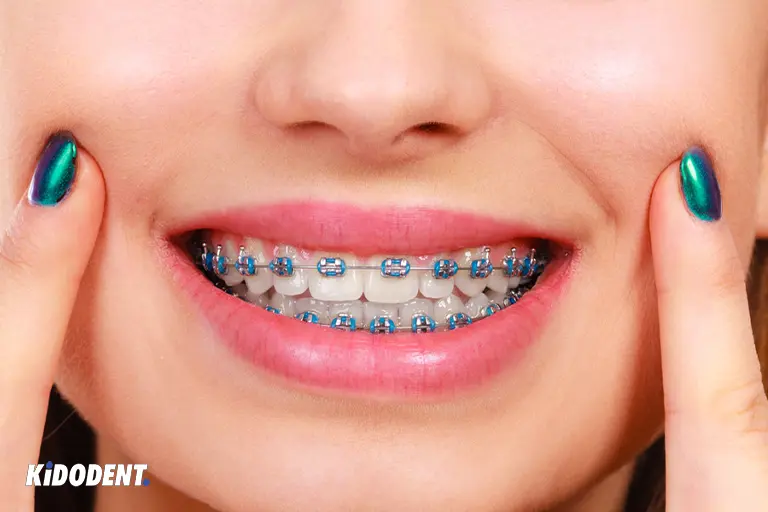 What are the most popular colors for braces?
Although you can pick up whatever color that looks good on you, the most loved color braces include pink, blue, purple, orange, or combinations of these colors.
Blue braces
Blue is a neutral color loved by all age groups from adults to children. It fits well with most colors and is chosen similarly by boys and girls. Light blue is the classic color for braces while the darker blue shine your teeth even greater.
Pink braces
Both girls and boys like pink color. The fact that girls can easily coordinate pink with their outfit, lipstick, or other accessories make it a top color used mostly by women.
Purple braces
Regardless of age, purple color braces can't be ignored as it is among the colors tried by many who are looking for whiter-looking teeth. For a dazzling smile, you can combine purple and pink to make your braces and teeth pop.
How about invisible braces (clear aligners)
If you want to go invisible with your braces with no colors, clear aligners can truly fit your needs. Most people may call them clear braces but clear aligners also commonly go by the name Invisalign as it is a major brand in producing them.
Clear aligners are especially beneficial when it comes to aesthetics and invisibility. Aligners are an excellent choice for anyone who doesn't want others to know you are having a treatment like many adults that want something less noticeable.
There are no more metals and archwire but only plastic-made custom-fit trays that you snap on your teeth.
Some key facts about the clear aligners include:
Aligners are removable which makes brushing and flossing much easier
Aligners are as effective as traditional braces
They are made of clear transparent plastics that make them almost invisible and suitable for adults or those who don't want to draw any attention
You might have fewer dentist trips since there are no readjustments or tightening just check-ups for your progress or for other issues
You will have a set of aligner series that are designed to gradually move your teeth instead of one metal braces that is fitted on your teeth
Aligners treat many orthodontic problems from mild, moderate, and complex cases. However, some orthodontists may use braces for highly severe orthodontics
Faster treatment time especially if worn for the recommended time
Aligners require around 22 hours of wear time but depending on conditions, there are more options like nighttime clear aligners
Require commitment for wear time and may not be a good option for children
Best aligner alternatives to color braces
Invisalign
Invisalign is one of the major aligner brands around. It is a well-known orthodontic company with a relatively higher price tag. You will get the custom-fit trays after visiting your orthodontist. Depending on the severity of your dental conditions, the Invisalign trays are made to correct the irregularities in teeth.
Cost: between $3,000 and $7,000. Insurance can sometimes cover Invisalign and there are various payment methods like monthly payment plans.
ClearCorrect
Like Invisalign, ClearCorrect is an in-person aligner brand that requires orthodontist/dentist' visit to receive the custom-fit series of trays that are designed for you treatment.
Cost: the average cost can range from $2,000 to $7,000. The $2,000 price is for limited treatments.
Conclusion
Color braces are fun and professional and add some freshness to dull metal brackets. Whether you are an adult looking for a subdued color or a teen who loves a more noticeable option, there is always the right color for you to choose.
And remember that fixed braces have remained as popular as ever for straightening any form of misaligned teeth among young and old orthodontic seekers albeit other invisible options.
Yet you can try less noticeable brace types like ceramic braces or innovative clear aligners which are also top picks and great smile-makeover orthodontic tools.
Keep in mind that orthodontics is not usually covered by insurance, but there are still ways to finance your case. You can look for insurance providers that cover partial costs of your total payment. Also alternatively, get payment plans from your dentist directly or try the savings plans from now to make your braces purchase convenient.
Frequently asked questions about braces colors
What colors should I get for my braces?
There are plenty of color palettes to choose from and it all comes down to you and your preferences.
To make your teeth whiter, darker shades can bring contrast to your teeth, so dark violet, purple, navy blue, dark green, burgundy, and dark green can be great.
Get pink, orange, green, blue, and metallic shades as they are among the popular braces color choices. While silver and grey suit the needs of adults for a subdued color, some options like bright neon colors, gold, and even glow-in-the-dark colors will bring shine on everybody' look especially younger-age people.
What color braces are most attractive?
It depends on you and what you actually consider attractive. Blue, purple, silver and darker shades can work for everyone. As an adult, you might choose them because these colors can be suitable for your workplace. People may also go for white and clear bands to keep the neutral colors on their braces, but these colors can pick stains easily. You might be better off with silver, sky blue, or grey.
For an expressive look for both adults and children, pink, red, orange, gold, bronze, green and metallic shades are a real transformer of smile. If you like, alternate colors and use a variety of combinations that work for you. Finally, don't forget to ask y
What are the cute color braces?
Light pink is one of the cutest colors for braces, but it may pick stain easily. You can combine it with lilac, baby blue and teal, which are also as cute for both boys and girls.