Mouthwash, after brushing and flossing, is the main way to enhance dental and oral hygiene and to have a perfect smile. Mouthwashes can be highly helpful and are an essential oral care product. The benefits, application, and buying the right type of mouthrinse are made clear to the readers in this article.
The benefits of using mouthwash
The different brands of mouth rinses are beneficial in various ways. Together we read about the benefits of mouthwash.
Bacteria reduction in the mouth
Active bacteria during infections in the gum through bleeding can cause serious side effects. Pregnancy is one of those times that women's body go through hormonal changes and gums are affected by bacterial activity, but regular rinses of mouthwash reduce this serious risk.
Mouthrinses prevent plaque buildup and gum diseases like gum infection and gum inflammation by eliminating bacteria in the mouth.
Helpful in whitening teeth
it containing carbamide peroxide or hydrogen peroxide has whitening effects on teeth. If there is a slight sign of discolored teeth or yellow color because of plaque on teeth, these mouthwashes help to whiten the teeth. That doesn't mean it can be a replacement for tooth bleaching.
It fights bad breath
One of the most important benefits of using mouthwash is freshening and reducing bad breath. Along with brushing daily with fluoridated toothpaste, you can use tooth washes occasionally to have a healthier fresh mouth. Fluoride, if used for a long period of time, can have dramatic results in terms of reducing the bad smell of breath.
Eliminate remaining food particles in the mouth
Apart from freshening, mouthwash can contribute to loosening sticky foods on teeth. And if you use mouthwash after brushing and eating, the effect is noticeable.
Prevent the buildup of plaque
There are various brands of mouthwashes to prevent the growth of plaque on teeth and in the gum line. As a preventive strategy, tooth washes maintain the health of gum tissue against gum diseases.
It IS a tooth decay prevention method
Since mouthwash has fluoride as an ingredient, it slows down tooth decay and enamel loss which show up as cavities at the end. So, be sure to buy fluoridated toothwashes for greater benefits.
Helpful in relieving the abscess pains in the mouth
Alcohol-free mouthwash or those containing smaller amounts of around 18 percent alcohol can reduce the pain of mouth abscess.
How to use mouthwash?
Most dentists believe twice-a-day teeth brushing (with fluoridated toothpaste) can provide a sufficient amount of fluoride to prevent tooth decay. In case of being at higher risk of tooth decay, along with brushing and flossing, use fluoridated tooth washes, too.
To use these rinses, consider the following tips:
Use the appropriate amount. Read the label before applying the toothwashes.
Close your mouth and swish the rinse after pouring it into the mouth.
Do not swallow the rinse since the higher fluoride ingredient is toxic.
Do not eat for 30 minutes after using the mouthwash in order not to reduce the effects of fluoride.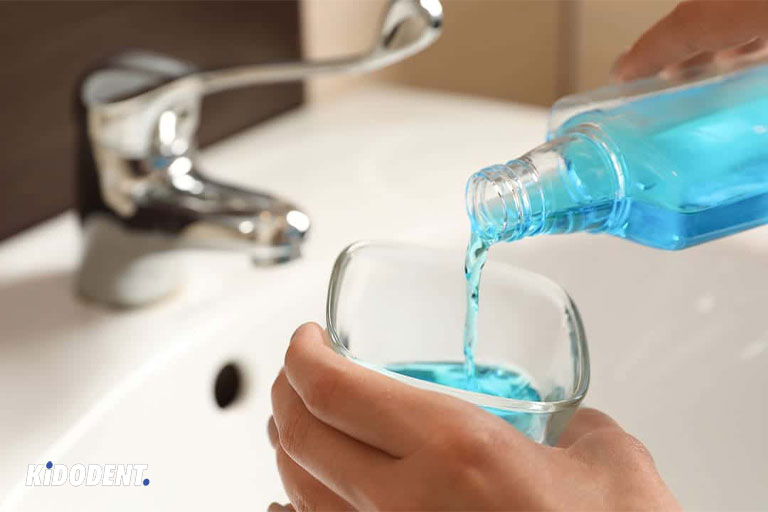 Tips before using a mouthwash
Here are some more tips to consider when using mouthwash:
Dilute them if needed
The different amounts of ingredients in mouthwash require different applications and the label on the brand clarifies whether diluting with water is necessary or not.
There is still no replacement for the same old habit of brushing teeth!
Routine care of teeth with brushing and flossing are crucial and toothwashes rinses are supplementary in tooth care, not the replacement.
Washing the mouth for how long
The key tip in using mouthwash is the time that can be spent swishing the rinse in the mouth. To know that, read the label for each brand. Most rinses are applied for 30 seconds to 1 minute. Don't forget to spit it out after swishing!
How to select the best mouthwash?
When buying, remember the benefits of mouthwashes that suit your needs. Look for alcohol-free rinses to stop your worries about the possible risks that alcohol may cause. The approved and ensuring brand considering your goal can make selecting the right choice easy. Need help? See your dentist.
As we pointed out, keeping the health of teeth and mouth is your priority. The selection of the appropriate mouthwash in the various types of brands should be your goal.
For appropriate cleaning efficacy of mouthwashes, bear in mind the functions of these rinses. Now some more tips in this case:
Do I need alcohol-containing mouthwash?
Alcohol is one of the main components of some mouthwashes, which poses plenty of problems if swallowed in large amounts. If you want your family members especially young people in your family to use mouthwash, try to get alcohol-free types.
Having teeth sensitivity and the mouthwash type
Sensitive gums require normal tooth washes. If you have sensitive gums together with sensitive teeth, select alcohol-free mouthwashes. The other point to remember is a natural substance found in some mouthwashes like those containing aloe vera or chamomile with a sweet and soothing taste.
Mouthwash fights plaque buildup
Plaque and other germ accumulation on teeth can be prevented with mouthwash. It should be the main goal for everyone who wants to prevent tooth decay and keep oral hygiene in good shape.
Ask for help from your dentist
For assurance of the suitable type of tooth washes to use, have a consultation with your dentist. By examining the oral and teeth conditions, your dentist can prescribe the appropriate type of mouthwash.
Side effects of mouthwash: with all these benefits, are there any risks?
There are some side effects considering mouthwash application. We will discuss these side effects below.
tooth washes contributes to the dryness of the mouth and cancer
Use alcohol-containing mouthwashes only when prescribed by your dentist. We should be careful about the excessive usage of these types of mouthwashes. Alcohol by itself is a major cause of dry mouth and bad breath. Also, diseases like cancers related to the mouth are reinforced with possible risks like too much use of alcohol-containing mouthwashes.
Increase in blood pressure and mouthwash
Studies have shown that regular use of tooth washes can increase your blood pressure because these rinses eliminate some helpful bacteria in the mouth. We also need to know that not all bacteria are bad. For example, excessive use of mouthwash can kill nitric acid (here is one good guy!), which is responsible for the healthy cardiovascular system in the body.
Other serious side effects
When bacteria in the mouth are eliminated with mouthwash, your front-line bacteria are killed, too. That means, using tooth washes increases the risks of infections like helicobacter pylori.
Anti-bacterial mouthwashes trigger inflamed intestines which leads to intestinal permeability, intolerance of foods, allergies, and other immune system disorders.
An important tip to know about mouthwash use in children
Whether you choose mouthwash or skip them, these rinses should be avoided in children under 6 years old. Since gastroesophageal reflux due to immaturity of anti-reflux function is common among children, they tend to swallow large amounts of these rinses, and toxicity of the substances cause vomiting in them.
Kidodent mouthwash
After reading the tips on using mouthwash and the benefits for oral health, you are now ready for choosing a brand of mouthwash that fits your oral-care buying list.
Kidodent Mouthwash satisfies your desire and has established itself as a major brand among oral care products. Kidodent benefits from three ingredients that make it a comprehensive and safe brand of mouthwash. The first ingredient is xylitol, which will inhibit decay-causing bacteria in the mouth. Kidodent tooth washes have an important and unavoidable decay-prevention ingredient. Yes, you guessed it right! It is sodium fluoride. Sodium fluoride in Kidodent Mouthwash provides a fighting feature against tooth decay and offers much healthier decay-free teeth.
The last ingredient is triclosan. You definitely want a mouthwash to have anti-bacterial capabilities and act as a disinfecting rinse to wash away these microorganisms. Triclosan makes Kidodent Mouthwash a brand of anti-bacterial and anti-fungal toothwashes.
Conclusion
The last word from us is that safety is first. If you are a pregnant mom, or if you have a young child you want to use mouthwash for, or maybe you have experienced dry mouth or teeth sensitivity, try to consult your dentist before using any type of oral care product including mouthwash to check whether that amount of ingredient or type of brand will be a good choice or not.