Sinus infection, also called sinusitis, can lead to a toothache. Specifically, sinusitis can cause pain in your upper back teeth, which are closest to a pair of largest sinuses. The sinuses are hollow spaces in your skull. And if you have sinusitis, this means that sinus tissues become inflamed which can cause pain and discomfort. Read on to learn what causes sinus toothache, how to know if your toothache is related to dental issues or a sinus infection or pressure, and how to find relief.
Understanding sinus anatomy
The sinuses are air-filled cavities within the bone of your skull which are connected to the nasal cavity. They are known as paranasal sinuses. These sinuses consist of four pairs of empty spaces found in the facial bones near the eyes, your forehead, and behind your cheekbones.
Sinuses help clean your nose and produce mucus which drains into the nasal cavity. In addition, they also moisten, warm, and filter the air in your nasal cavity.
Sinusitis, or inflammation in the sinuses, occurs because of obstruction to fluid flow or due to bacterial infection. When the sinuses become inflamed and infected, it results in congestion, pressure, and pain. Since the roots of the upper teeth are very near your sinuses, the pressure and congestion can affect the nerves on roots of the upper teeth or other teeth nearby and your jawbone, leading to tooth pain.
Sinus toothache vs. regular toothache
If you have a regular toothache, you will have a more intense throbbing pain which is more focused and will likely affect one tooth. However, the sinus tooth pain mainly affects the upper molars and you will feel pain in several teeth instead.
Your sinus toothache may get worse with certain movements. For example, you may have more intense pain when bending over or jumping up. Also, when you are lying down or sitting, the pain may decrease and ease down.
It is essential to consult your dentist at the first sign of a toothache. They will confirm if your tooth pain is from a dental cause or if sinuses or other conditions is causing you pain. Both sinusitis and toothache can have similar symptoms as well, such as fever, bad breath, and headache. But there are more symptoms to tell the difference.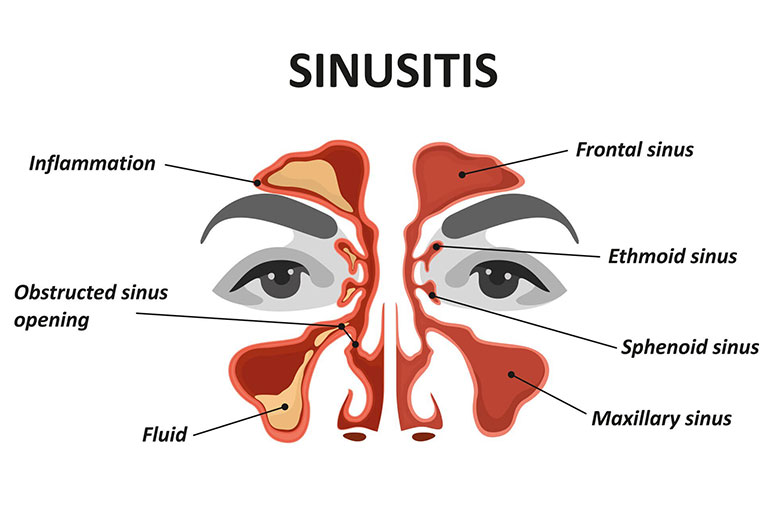 Other symptoms of sinus infection
There are other sinus infection symptoms that you need to be aware of which are similar to those of cold and allergy conditions. So, when experiencing painful teeth, look for the other sinusitis symptoms, including:
Facial tenderness and pressure around your nose, eyes, or forehead
Runny nose or congestion
Bad-tasting nasal drip
Thick, discolored mucus
Cough
Ear pain and fulness
Headache
Toothache
Fatigue
Fever
Sore throat
Loss of smell
Toothache symptoms that could indicate a dental problem
There may be a dental cause behind your toothache. Your dentist will diagnose your tooth pain by taking necessary imaging such as an X-ray or a CT scan. They will confirm whether cavities, gum disease, or dental abscesses are responsible for your pain.
Signs and symptoms of a toothache that are different from sinusitis and will show a dental cause can be:
Dull throbbing or sharp toothache
Dental pain when chewing or touching your tooth
Tooth sensitivity or pain to temperature changes or when eating something hot or cold
Swollen gums
Facial swelling
Home remedies to relieve sinus infection tooth pain
If you have ever had sinus infections, you may know how painful they can be. It is necessary to determine whether a sinus infection is the cause of your toothache. You need to see a doctor if you have just experienced a cold turning into a sinus infection.
Reach out to your dentist for treatment once confirmed your tooth pain originated in your teeth. A toothache can be the result of a much more serious dental condition like an abscessed tooth.
If you have a sinus infection, there are a range of home remedies and traditional treatments to help relieve your symptoms including tooth pain. Here are some home tips to try:
Stay hydrated
Water helps thin the mucus and alleviate sinus congestion. Therefore, make sure to stay hydrated by drinking plenty of water to help open the blocked sinus passages and decrease pressure and pain.
Use steam
Have a hot steamy shower or place your head above boiling water daily to inhale hot, moist air to open the sinus congestion. This helps cut the congestion and alleviate the sinus pressure, which eases your pain. It may be a good opportunity to enjoy yourself while breathing in the hot air from your tea.
Nasal irrigation
Rinsing your sinuses with a warm saline solution will help promote mucus drainage and moisturize your sinuses. Use a syringe or empty nasal sprayer filled with distilled, sterile water or pre boiled water to clean the nasal cavity and thus your sinuses.
Avoid using tap water and make sure the solution is not hot. You may want to get a premixed solution for the best care.
Rest and sleep
Getting good sleep provides support for your immune system which is key to fighting bacterial and viral infections. Therefore, to increase your body's resistance and reduce your sinus toothache, you will need to get enough sleep.
Additionally, make sure your head or upper body is propped up when resting or sleeping to help drain the mucus and reduce your sinus toothache.
When to see a doctor or dentist
Never ignore a toothache and visit your dentist for immediate treatment. It is especially important to see a doctor or dentist as soon as possible with the following symptoms no matter the cause of a toothache:
Severe sinus or toothache
Fever that lasts for days
Your symptoms get worse or last longer
Your toothache doesn't go even when your sinus infection disappears
Difficulty in breathing or eating