Flossing with a permanent retainer needs a habit and some extra effort. To maintain a clean beautiful smile, flossing is just as important for your oral health as it was during braces. So, you need to keep up with that for your permanent retainer. This article will quickly introduce you to the flossing tips, techniques, and best tools you can use to floss with a permanent retainer.
What is a permanent retainer?
A permanent retainer keeps your teeth aligned after your braces or Invisalign is removed. It is just a small wire that is glued behind the front teeth, either on the bottom or the top teeth. This retainer wire can be bonded to each individual tooth, or just on teeth on the end (canine-to-canine type).
Permanent retainers can trap foods and build up plaque. Without proper cleaning, bacterial activity can cause damage to your teeth and gums. Flossing, therefore, along with brushing will get the food particles out and prevent plaque buildup around the permanent retainers.
How to floss with a permanent retainer?
Flossing becomes easier even with retainers fixed, once you choose the right methods, especially ones used by most people. So, here are the tips and tools on how to floss with a permanent retainer:
1- Floss threaders
Floss threaders allow you to get the floss beneath the retainer wire. You have a small plastic threader which you use to thread the floss. Floss treaders are useful and inexpensive and are available at every drugstore. They make flossing a lot easier and are used by many people who have permanent retainers. Here are the cleaning tips to use floss threaders for flossing easily with a permanent retainer:
Pass a piece of floss into the threader. Then pull the floss about half away and with the size you need.
Take the tip of the threader and, from the front side of your teeth, slide it in between your teeth. Guide it through under the retainer wire.
Now grab both ends of the floss, and floss gently up and down like usual. Don't be forceful so that you will not injure your gums.
Slide the floss to the next tooth—if your retainer is bonded to only the teeth on the end—and do the cleaning for the other teeth one by one.
In case your retainer wire is attached to all teeth or if the space between your teeth is too tight, you should re-thread the threader again for each tooth you want to floss between. Repeat the cleaning for all of your teeth.
The video can illustrate how flossing using floss threaders is done:
2- Superfloss
Looking for something quicker? Then get a Superfloss. It does not involve threading as for floss threaders. Instead, Superfloss has a stiff end on the floss which you can insert between the teeth and under the permanent retainer easily. Superfloss is a popular dental care product used widely to clean teeth and gum lines for people wearing braces, bridges, permanent retainers, and other dental appliances.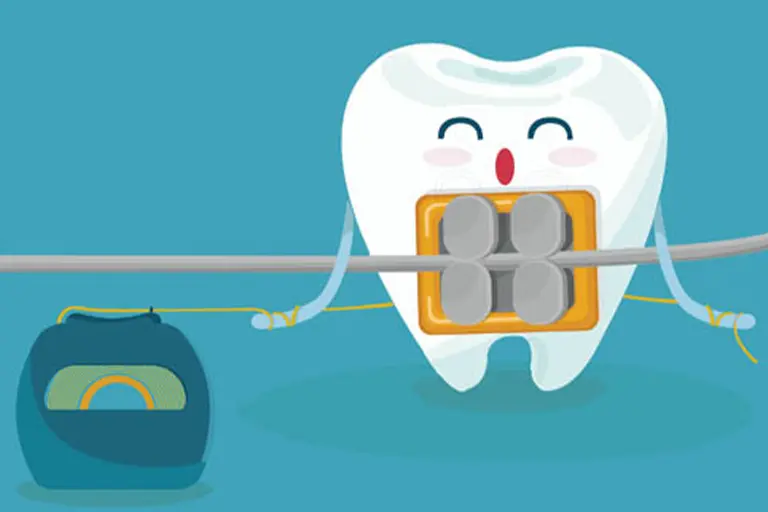 Simply, you just insert the stiff end of floss between your teeth and under the retainer. Now grab both sides and floss as normal by gliding up and down around each tooth and by gums. Do that for the next teeth and be gentle when flossing.
Superfloss is easier to use and quicker than floss threaders. They are inexpensive and come in pre-cut floss pieces. Watch the video below on how Superfloss is used to floss around a permanent retainer.
3-Water flossers
While traditional string flossing is vital, it may be time-consuming for some people, and when manual dexterity is an issue.
So, if you want something much easier, faster, and hassle-free to floss with your permanent retainer, then consider purchasing a water flosser. It produces pulsing, pressurized jets of water to blast away food debris and plaque from the teeth and along the gum line. Water flossers are super quick and easy, cleaning around your permanent retainer in seconds.
Water flossers provide a number of great benefits, especially if you have a dental appliance like braces, permanent retainers, or dental implants, or if you find string flossing tedious. And let's remind you that you are about to floss more often with your permanent retainer and for a longer period of time, which makes water flossers a good choice.
Water flossers are pricy compared to string flossers. But wait maybe it's not! Take the fact that you can use the device many times and many uses. Just fill and spray, although it can be messy at times.
Conclusion
Flossing along with brushing are the only ways you can physically remove plaque and prevent its formation on teeth. Floss threaders, Superfloss, and water flossers have all made the job of flossing just as easy as it can be. It is essential not to skip teeth cleaning and keep it a daily routine by any means.
Follow your orthodontist's instructions on more care and guidelines with your permanent retainer. Make sure your oral health is checked. With cleaner and healthier teeth, retainers ensure that you get the most of your orthodontic treatment and prevent your straightened teeth from moving back.
Frequently asked questions
Is it hard to floss with permanent retainer?
Flossing with a permanent retainer may need some practice and is not a problem once you use the right methods. Floss threaders and Superfloss make it easy for you to pass the floss string through the teeth and beneath the retainer wire, which you can then floss as you would normally do.
What is the easiest way to floss with permanent retainer?
Water flossers make flossing a lot easier compared to conventional string flossing, especially with appliances like permanent retainers or braces which are fixed on teeth. Water flossers are effective and recommended by many dentists. It works through pressurized jets of water to help remove food particles from around teeth and the permanent retainer.
Which is better with permanent retainer floss threaders or Superfloss?
Both floss threaders and Superfloss are effective to remove plaque and food debris off from the teeth and around your permanent retainers. Superfloss is easier as it has a stiff end to insert in tight dental spaces, so it does not require threading the floss which you do with floss threaders.